Fiegener to play in Shrine Bowl June 7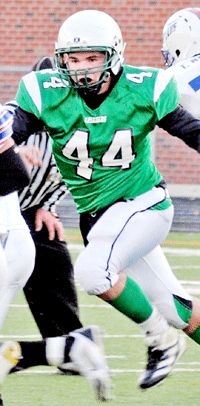 Journal File Photo Jim Langan.
 Falls City Sacred Heart senior Jarod Fiegener was recently selected to play in the 2014 Nebraska  Shrine Bowl June 7 at the University of Nebraska-Kearney's Cope Stadium at 2 p.m.
 Fiegener was one of 70 seniors selected to this year's game and the first from Falls City since 2003  FCSH graduate Matt Sells. Fiegener joins Sells and former Irish football players Brandon Bonk  (2001), Brandon Sells (1998), Chris Darnell (1993), Dan Hill (1978) and Frank Sunnenberg (1965)  selected to play in the Shrine Bowl. Falls City High has had nine selections, with Chad Scholl being  the most recent in 1998.
 In December, Fiegener was named to the Super State Second-Team defense by the Lincoln Journal  Star and the All-Nebraska Second Team defense by the Omaha World-Herald, after leading the  Irish to a perfect 13-0 season and Class D-2 state championship. Fiegener, who moved from  linebacker to nose guard in 2013, finished with 211 total tackles, 19 sacks and 41 tackles for loss  and was the only eight-man player selected to All-Nebraska (OWH) teams.
 Fiegener will play on the South team and be joined by the lone FBS recruit in this year's Shrine  Bowl, Stanford-bound Harrison Phillips of Millard West. Some other names of interest on the South  roster are future Nebraska walk-ons Bryan Reimers of Lincoln East, Noah Arneson of Omaha Gross  and Alex Boryca of Cozad.
 The Shrine Bowl game serves as a fundraiser for Shriners Hospitals for Children. Shriners Hospitals  is a network of 22 non-profit hospitals across North America that treats children with orthopedic conditions, burns, spinal cord  injuries and cleft lips and palates. Children receive all services in a family- Hospitals also provide world-class research and  educational opportunities for medical professionals.