Sacred Heart garners four 1st team All-Pioneer selections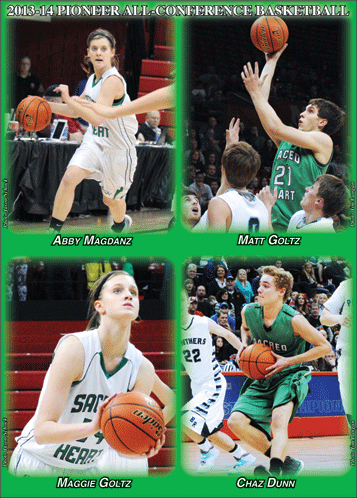 Falls City Sacred Heart finished with a conference-best four Pioneer all-conference first-team selections – two boys and two girls – and shared the total number of selections – eight – with Lourdes Central Catholic.
Irish junior Abby Magdanz – a first-team selection a season ago – and sophomore Maggie Goltz were the only non-senior selections on the ladies first team.
Lady Irish freshman Haylee Heits was a third-team selection and junior Elizabeth Magdanz received honorable mention.        FCSH seniors Chaz Dunn and Matt Goltz repeated as first-team selections, while fellow senior Colin Niemeyer was named to the third team and junior Austin Malone received honorable mention.
Humboldt-TR-S sophomores Eli Herr and Jena Fink were given honorable mention.
2013-14 PIONEER ALL-CONFERENCE BASKETBALL
GIRLS
First Team
Taylor Menke (Sr.)    Friend
Jordan Lempka (Sr.)    Sterling
Abby Magdanz (Jr.)    FCSH
Maggie Goltz (So.)    FCSH
Annie Rohrig (Sr.)    Friend
Kelsey Buss (Sr.)    Southern
Second Team
Erin Saathoff (Sr.)    Diller-Odell
Sarah Schmidt (Sr.)    Diller-Odell
Taylor Cockerill (Fr.)    Sterling
Jenny Lawyer (Jr.)    Friend
Sam Heng (Jr.)    Lourdes
Third Team
Haylee Heits (Fr.)    FCSH
Jenna Habegger (Jr.)    Pawnee City
Jeryn Creek (Sr.)    Southern
Josie Vitosh (Jr.)    Diller-Odell
Laura Box (Fr.)    Lourdes
Girls Honorable Mention
Tara Hestermann (Sr.)    Sterling
Mackenzie Gydesen (Jr.)    D-O
Elizabeth Magdanz (Jr.)    FCSH
Mariah Hulse (Sr.)    Friend
Jena Fink (So.)    Humboldt-TR-S
Tori Rowe (Sr.)    Johnson-Brock
Apryl Morris (Sr.)    Lewiston
Kayla Jelken (Jr.)    Lourdes
Karli Cabrera (Sr.)    Pawnee City
BOYS
First Team
Chaz Dunn (Sr.)    FCSH
Matt Goltz (Sr.)    FCSH
Chase Grizzle (Sr.)    Pawnee City
Cutter Singleton (Sr.)    Lewiston
Nick Stahl (Sr.)    Johnson-Brock
Second Team
Kody Benson (Sr.)    Sterling
Scott Borcher (Sr.)    Pawnee City
Jesse Phillips (Sr.)    Sterling
Mitch Gude (Sr.)    Lourdes
Noah Vasa (Jr.)    Lourdes
Third Team
Aaron Miller (Sr.)    Lourdes
Alek Klepper (Sr.)    Diller-Odell
Ely Hroch (Jr.)    Diller-Odell
David Segner (Jr.)    Friend
Colin Niemeyer (Sr.)    FCSH
Boys Honorable Mention
Billy Speckmann (Sr.)    Lewiston
Austin Lovell (Jr.)     Southern
Chris Wenzl (Sr.)    Sterling
Eli Herr (So.)    Humboldt-TR-S
Graham Stutzman (Sr.)    Friend
Marco Fabietti (Jr.)    Lourdes
Brady McMurray (Jr.)    Diller-Odell
Austin Malone (Jr.)    FCSH
Kirby Neufeld (Sr.)    Johnson-Brock
Voy Pearson (So.)    Pawnee City