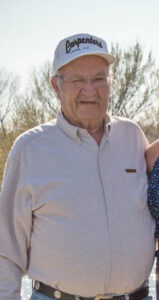 Gary Foster, 76, of Falls City, NE, passed away on January 10, 2021, in Milton, FL. He was born July 5, 1944, in Tower Hill, IL to Wilbur and Mamie (Bennett) Foster.
He married Marvelle Schulenberg on February 10, 1968, at Falls City. She passed away on January 26, 1995.
Gary was raised in Illinois. He was employed erecting greenhouses when he met Marvelle and when married the couple established their home in Falls City and later moved to Preston. He was a union carpenter out of Kansas City and did commercial carpentry work, specifically, building Safeway stores in the Midwest. He was also employed at Frontier Trailer Factor, flipped many houses and owned Spirit Liquors. He was working on a winter home in Milton at the time of his passing. He and Marvelle sponsored over 50 foster kids during their marriage. He loved to hunt and fish and was a fantastic dad, step-dad and foster dad. He was a member of Trinity United Methodist Church at Rulo and the Kansas City Carpenters Union.
Gary is survived by his sons, Duane Armbruster and his wife Theresa of Falls City, Kevin and Yolanda Foster, 11 grandchildren, three great-grandchildren, nieces and nephews. 
He was preceded in death by his parents, wife and sister, Carolyn Foster.
His funeral will be held on Friday, January 22, 2021, at 10:30 AM at Dorr and Clark Funeral Home with Reverend Young Je Kim officiating. Interment will be in Steele Cemetery.
Seating will be limited, masks required and the service will be live-streamed on Dorr and Clark Funeral Home's Facebook page at https://www.facebook.com/dorrandclarkfuneralhome
Viewing and open visitation will begin on the afternoon of January 20th.
The family will receive friends on Thursday from 6-7:00 PM at Dorr and Clark Funeral Home.