Hogue moves by Jug with wins 194, 195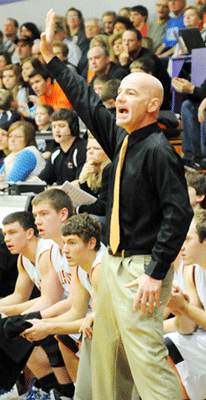 A new name sits atop the Tiger boys' basketball record book, as 15-year head coach Don Hogue surpassed the legendary Jug Brown for career coaching victories at Falls City High.
Hogue passed Brown's career total of 193 wins last Tuesday as the Tigers traveled to Nebraska City and defeated the Pioneers, 66-57. It marked 194 wins for Hogue, who took over the Tiger boys' program in 1999-2000. Brown amassed his 193 victories, including the 1939 Class A state championship, over 16 seasons from 1929 to 1944.
"It means a lot," Hogue said Friday morning, after having a little time to think about it. "Anytime you do something that affects the history of our school, it's unique. It's kind of like going to the state tournament in 2010, where it had been so long that it made it a little more special and so this is special to me.
"Was it on my mind? Maybe a little bit, but when I got it? It didn't matter."
Hogue played down the record some and said getting back to Lincoln is all this team is focused on.
"The ultimate goal is for the whole team to succeed and for us to do that, we want to get to the state tournament and win a game. But it is special, and having a senior son on the team this year, it made it even better."
The trek towards 194 began at a snail's pace for Hogue, whose first six teams combined for 35 wins , including an 11-win season by the 2000-01 squad. Hogue's teams have made up for those rough years in the beginning by posting a 160-59 record over the past nine seasons, which he attributes to the switch in defensive philosophy and the kids buying in to a common goal.
"I think the biggest thing was us changing our defensive philosophy, probably more than anything, that changed the winning attitude," Hogue said. "Also, the players developing in the off-season and playing a lot of summer ball together. Just getting that team concept year around and not just between November and March."
The seventh-ranked Tigers improved to 20-2 on the season Thursday night with a suffocating 64-36 victory over visiting Humboldt-TR-S. FC has now won 20 games in back-to-back seasons for the first time in school history and reached now reached the 20-win mark in three of their last five seasons.
FC trailed 3-0 after HTRS sophomore Eli Herr connected on the first of his five three-pointers less than one minute into the game, but that would be then only Titan lead and the Tigers erased it quickly. FC went on a 16-0 run over the next five-plus minutes and never looked back.
The Tigers forced 23 HTRS turnovers, thanks largely to 17 steals. FC senior Ryan Mount led four Tigers with at least three steals, as he finished with four swipes. Senior Mitchell Harling and juniors Weston Witt and Jordy Stoller had three steals each. Harling and junior Jack Hartman finished with 12 points apiece and Hartman added 10 boards, two steals and three blocked shots to his line.
One concern was FC's 9-of-22 effort at the free-throw line, which Hogue said is most likely some lapses in focus.
Tuesday at Nebraska City, FC capitalized on opportunities in the second quarter and held the NC to six points in the period, turning a one-point first quarter lead into a 13-point margin at the half.
Harling led three Tigers in double figures with 20 points. He finished 7-of-9 from the floor, 2-for-2 from the three-point line and 4-for-4 at the stripe. Witt and senior Tyler DiGiacomo contributed 11 and 12 points, respectively.
Harling tied David Hillyard's (1996-98) school record with 98 career made three-pointers and needs one trey to claim it to himself.
FC wraps up the regular season Friday at home against the Fairbury Jeffs, who come to town with a 2-18 record and losers of 12 straight.
The JV will tip-off at 6 p.m., with the varsity to follow.
Scoring vs. HTRS
FC – Harling 12, Hartman 12, Stoller 11, Hogue 11, Mount 6, DiGiacomo 4, Witt 3, Pentecost 3, Jordening.
HTRS – Herr 17, Hain 7, Schafer 5, Kuhlmann 3, Knudson 2, Sherman 2.
Scoring vs. Nebraska City
FC – Harling 20,DiGiacomo 12, Witt 11, Hartman 9, Mount 5, Hogue 5, Stoller 4.