Veteran assistant, Bredemeier, looks to 'expand' on Dunn's successes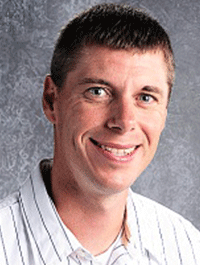 Bredemeier
Normally when a successful coach leaves a program after 13 years the transition for the successor can be a rocky one.
Unless of course the successor spent those same 13 years as an assistant and was named the replacement.
Such is the case for first-year Tiger softball head coach Jason Bredemeier.
After Joe Dunn stepped down as the head softball coach at Falls City High following a season in which his team set a record for most wins with 21, Bredemeier was quickly named to succeed Dunn.
"I don't feel too much different being the head coach since I have been with the softball program for the past 13 years," Bredemeier said. "I was with Joe from the beginning, so I feel like I learned a lot from him. Joe left the program in great shape and I am just trying to expand it."
New hitting drills in practice, a clinic for elementary school girls and a new alumni softball tournament which attracted 33 former players back to Falls City were a few examples Bredemeier provided regarding the expansion of Tiger softball.    
Bredemeier also noted his 11 years as an assistant coach with the Tiger boys basketball program and said he's learned a great deal about building and maintaining a quality program from Don Hogue.
"I learned from him (Hogue) that you have to out-work your opponents year-round for a program to be successful."
Making the transition relatively easy are seven seniors who have been part of 51 wins in their previous three season. Senior Allyson Scholl heads the class as far as experience goes and will start her fourth season in centerfield. Three-year starters Brooke Scheitel and Kirstyn Buchholz will be the Tigers catcher-pitcher battery. Scheitel hit .282 last season, but had a successful season with the Falls City Traveler's program. The same can be said for Buchholz, who appeared in just a handful of innings a season ago, but with Claire Poppe off to Nebraska Wesleyan, the time is now for the hard-throwing Buchholz.
Brittany Ritter, Payshince Dawkins, Haley Cochran, Mahlory Vice and Emily Weaver round out the group of seniors that Bredemeier said he will lean on for leadership.
"Our seniors have been great leaders and that has made my transition easier," said Bredemeier. "However, this team has a completely different feel to it from last year's team. We have a new pitcher and we have freshmen starting at first base and third base. That mix of experience and youth gives our team a  lot of energy. Our goal is to have a winning season and to be more successful in the postseason."