No. 1 Irish dismantle St. Joe Christian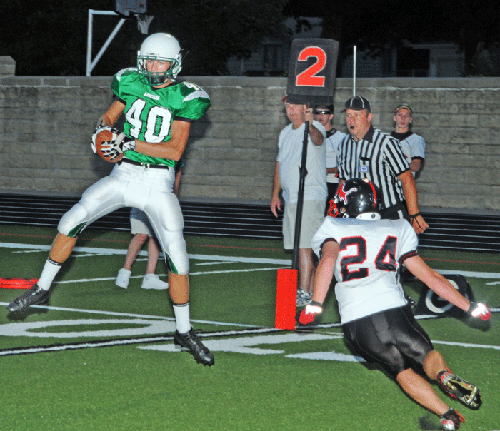 FC Sacred Heart senior Sean Strasheim hauls in a TD pass from senior Chaz Dunn during the second quarter of the Irish's 60-6 thrashing of St. Joseph Christian (MO) last Thursday at Jug Brown Stadium. Photo by Jim Langan.
Twelve offensive plays in the first half was all the top-ranked Falls City Sacred Heart football team needed to build a 54-0 lead over visiting St. Joseph (MO) Christian last Thursday night en route to a 60-6 victory.
All told, the Irish ran only 23 offensive plays the entire game against the over-matched Lions, who managed only 73 yards on 46 plays. FCSH, now 2-0, finished with 334 yards offensively.  
Senior Chaz Dunn threw four first-half touchdown passes to four different receivers and added a 43-yard touchdown run to lead the Irish who improved to 2-0. Dunn hit senior Colin Niemeyer for 31 yards, junior Austin Malone for 40 yards, senior Sean Strasheim from one yard out and finally, junior Sawyer Kean for a 34-yard score. Dunn finished the night 5-of-6 passing with 116 yards, while also carrying the ball twice for 51 yards.
Irish sophomore Henry Arnold made the most of his opportunities, as he carried the ball only two times but for scores of 65 and 47 yards. Arnold finished with 112 yards to lead FCSH.
Kean and Malone also scored twice for FCSH. Kean's second TD came on a 34-yard run with 5:38 left in the second quarter and put the Irish ahead 48-0, while Malone scored the second touchdown of the game on a 50-yard punt return with just under seven minutes left in the opening quarter.
The Irish defense, led by seniors Jarod Fiegener and Brandon Schawang, again caused fits for the opposition. Fiegener finished with 12 tackles, three of which were solo, one sack and two tackles for loss, while Schawang had 10 stops (two solo), two sacks and two tackles for loss. Junior defensive end Logan Scheitel finished with a game-high three sacks, which resulted in 21 yards lost for SJC, and freshman Emerson Keithley recorded the only Irish takeaway when he picked off a pass in his own end zone late in the fourth quarter to thwart a SJC scoring opportunity.
FCSH travels to Axtell, KS Friday night for a game with the 2-0 Eagles. Axtell defeated Lewiston (NE) 42-16 on the road in their opener and won at home last week 44-28 over Clifton-Clyde (KS).
Team Stats
                            FCSH          SJC
First downs            10              3
Rushing              17-221       30-115
Rushing lost           3               63
Rushing net           218           52
Passing                5-6-0        8-16-1
Passing yds.          116            21
Fumbles lost           1              0
Punts-ave.            0-0           8-25.3
Punt Ret. Yds.        59             0
Kickoffs-ave.      10-48.2       1-50.0
Kickoff Ret. Yds.      0              39
Total return yds.     74             39
Penalties-yds.        1-5           3-15
Total offense         334             73
——
INDIVIDUAL STATS
Rushing
    FCSH — Ahern, 1-1; Arnold, 2-112, 2 TD; Barker, 5-1; Dunn, 2-51, TD; Kean, 4-49, TD; Keller, 3-4.
Passing
    FCSH — Dunn, 5-6-0, 116, 4 TD.
Receiving
    FCSH — Kean, 1-35, TD; Malone, 1-40, TD; Niemeyer, 1-31, TD; Scheitel, 1-9; Strasheim, 1-1, TD.
PAT
    FCSH — Haralabidis, 6-7.
Kickoffs
    FCSH — Haralabidis, 10-48.2.
Punt Returns
    FCSH — Malone, 4-59, TD.
Tackles
(unassisted-assisted)
    FCSH — Ahern, 2-0; Arnold, 3-1; Dunn, 2-0; Fiegener, 3-9; Kean, 0-1; D. Keithley, 2-6; E. Keithley, 1-1; M. Keithley, 0-2; Kirkendall, 1-5; Malone, 2-4; Mullins, 1-0; Niemeyer, 0-1; Schawang, 2-8; Scheitel, 2-2; Strasheim, 0-1; Witt, 0-2.
Sacks
    FCSH — Ahern, 1; Fiegener, 1; Schawang, 2; Scheitel, 3.
Tackles For Losses-Yards Lost
    FCSH — Ahern, 1-10; Fiegener, 2-9; D. Keithley, 1-1; Kirkendall, 1-5; Malone, 1-1; Mullins, 1-4; Schawang, 2-12; Scheitel, 3-21.