Deflated Lady Tigers 4th at FC Invite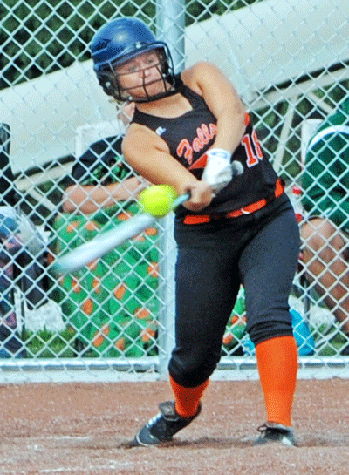 Falls City High senior Payshince Dawkins, pictured above, connects on a two-out pitch in the bottom of the seventh inning against Syracuse. With the game tied 2-2, Dawkins blooped a single into shallow left field, resulting in senior Allyson Scholl scoring from second base. Photo by Jim Langan.
The Lady Tiger softball team needed late-inning heroics to fend off Syracuse and tie Class C No. 6 Wymore Southern, but ran out of juice in extras against the eventual Falls City Invitational champs en route to a fourth place finish Saturday.
Senior Brooke Scheitel drove in junior Sydney Armbruster in the bottom of the seventh to tie Southern 1-1 and force extra innings. Southern's 2-3-4 hitters came up in the top of the eighth and the Raiders scored a pair of runs to hold off FC 3-1. FC  mustered only four hits against the tough Southern pitcher Ellie Edmond.
FC's 3-2 walk-off victory over Syracuse in the first round was highlighted by senior Payshince Dawkins blooper over third base that scored senior Allyson Scholl from second. Scholl reached on a single, then stole second on a wild pitch to get into scoring position.
Scholl finished 3-for-3 against Syracuse. Scheitel was 2-3 with one RBI and freshman Bailey Armbruster was 1-3 with an RBI.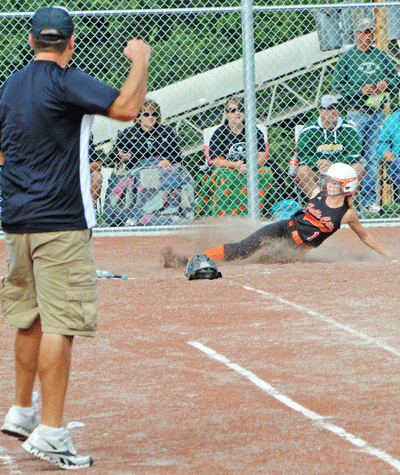 Falls City High senior Allyson Scholl slide in for the winning run Saturday during the Lady Tigers 3-2 walk-off victory over Syracuse in the first round of the FC Invitational. Scholl reached on a single, swiped second base on a wild pitch and then scored on senior Payshince Dawkins bloop single to shallow left field. The normally tepid Kory Huppert, a FC assistant coach, expressed himself with a Tiger fist-pump. Photo by Jim Langan.
Perhaps deflated from the extra-innings loss, the Lady Tigers couldn't get anything going in the third place game with Class C contender Cass Count Central and were defeated 9-1 in five innings. CCC scored 1 in the first, three in the third and five in the fourth to race out to a 9-0 lead before FC's Brittany Ritter came around for the lone run in the top of the fifth.
FC finished with only two hits against CCC, who improved to 8-4 on the season.
FC head coach Jason Bredemeier said the loss to CCC was the first of the season where the team just played poorly, but overall said the girls played great softball.
"We played some of our best softball of the season in the Syracuse and Southern games," Bredemeier said. "Getting fourth doesn't help our record, but playing three ranked teams in our tournament will make us a better team."
FC easily defeated Conestoga 11-3 at home last Tuesday during Parent's Night. Freshman Tayten O'Brien finished 3-4 with two RBI's and freshman Morgan Bletscher was also responsible for a pair of runs batted in.
FC also picked up a win last Thursday at Tecumseh where FC held off Johnson County Central/Lewiston 4-2. Senior Kirstyn Buccholz allowed only three hits in seven innings pitched. She also struck out a season-high 11 batters. In 17 appearances, Buccholz has fanned 94 batters and walked only 16.
Offensively, FC still holds a .315 team batting average and has scored 109 runs in 17 games (6.4 runs/game). Leading the way has been Sydney Armbruster, who last week was named Athlete of the Week by KNZA 103.9 FM out of Hiawatha, Kansas. Armbruster leads FC in batting average (.500), hits (26), runs scored (21) and plate appearances (61).
Scheitel's game-tying RBI against Southern was her team-high 21st of the season and she also sits second on the team in batting average (.382) and hits (21), while leading the team with four triples.
The Lady Tigers, now 10-7, will have a chance to avenge their loss to CCC tonight when CCC and Platteview visit for a triangular. FC will face CCC at 4:30, followed by CCC and Platteview at 6 and finally, FC takes on Platteview at 7:30.