Mary Jane Gist celebrates 40 years with SENCA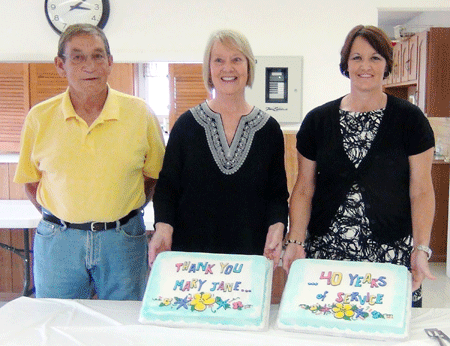 SENCA Head Start Family Partnerships Coordinator Mary Jane Gist, middle, recently celebrated 40 years of serving local children and families. On the left is former SENCA Executive Director Richard (Max) Winslow, and to the right is current SENCA Director Vicky McNealy.
Mary Jane Gist, SENCA Head Start Family Partnerships Coordinator, was honored with a reception celebrating her 40 years of serving children and families at the SENCA all-staff meeting Aug. 23 in Auburn.        
In 1973 Richard Nixon was President, the Sears Tower opened in Chicago, "Paper Moon" and "American Graffiti" were showing at the box-office, a first class stamp cost 8 cents, gasoline was 40 cents a gallon and Mary Jane started her career with SENCA!
Mary Jane began her career in Head Start working part-time as a Social Service Aide in Falls City on Sept. 3, 1973. In addition to working for SENCA, Mary Jane was employed for three plus years with the Dept. of Health and Human Services. She worked as a part-time support worker helping teen moms attend parenting classes. Over the years, Mary Jane's career with SENCA has remained focused on working with families and children even though her title has changed several times.  
During the 1980's, the Social Service Aide job transitioned into Social Service Advocate. When Mary Jane's son Thomas was born in 1989, she moved into the position of Literacy Coordinator. Mary Jane was promoted to a coordinator position in 1990 for the Head Start program and began working at the SENCA Central Office in Humboldt. Today, Mary Jane serves as Family Partnership Coordinator and she is still doing the work she loves and believes in, engaging children and families in Head Start preschool.
During the past 40 years Mary Jane has seen many changes in the program and has worked with seven different agency executive directors. One of the most significant changes has been the focus on outcomes and the importance it plays in program funding.   
Mary Jane commented that liking your job and building friendships with the people you work with are important factors in building a long-term employment history and part of why she has been with SENCA for 40 years.     
Mary Jane lives in Falls City with her husband, Dick.