Wild 4th quarter ends with FC's first victory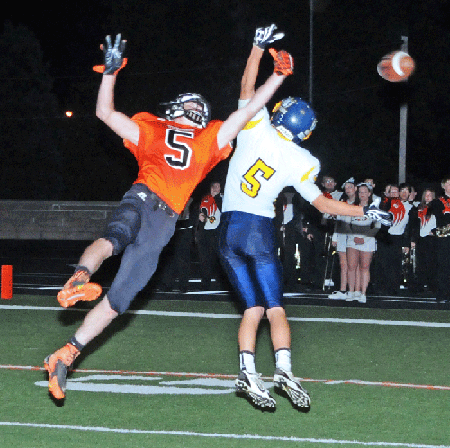 Falls City High junior cornerback Jack Hartman knocks the ball away from Raymond Central's Mitch Frederickson late in the first half of the Tigers 46-36 victory Friday night at Jug Brown Stadium. Hartman, who played nearly every play in the win, caught the game-tying touchdown on a 37-yard pass from senior Mitchell Harling with 2:37 remaining in the fourth quarter. Photo by Jim Langan.
Coaches say it all the time. "Make more plays than the other team and you give yourself the best chance to win."
Falls City High did just that Friday night against visiting Raymond Central, as the Tigers made more plays in the end to defeat the Trojans, 46-36.
Ironically, in a game low on defense – the teams combined for 997 yards on 112 plays – it was a defensive play made by the Tigers that flipped the momentum and set up the eventual game-winning touchdown.
Leading 36-30 with five minutes to play, Raymond's sophomore running back Jake Pelensky took the handoff near his own 40-yard line, rushed up the middle where he was met by FC junior Brenden Heckenlivley, who forced the ball out of Pelensky's hands. FC senior safety Mitchell Harling recovered the fumble and the Tigers were back in business.
Two plays later, Harling connected with junior Jack Hartman on a 37-yard touchdown pass to tie the game and junior Jordy Stoller followed it up with his third successful 2-point conversion run of the game and FC led 38-36 with 2:37 left in the game.
Raymond returned the ensuing kickoff to the FC 45-yard line and with 2:37 left in the game, the Trojans, led by their senior quarterback Ben Lodema who finished the night with 232 yards passing and another 168 rushing, still had life.
Lodema's first and second down passes fell incomplete though and on third down, FC senior C.J. Arnold sacked Lodema for a one-yard loss. Lodema's throw on 4th and 11 also found the turf of Jug Brown Stadium and the Trojan threat ended.
FC tacked on an insurance touchdown after Stoller broke loose for a 53-yard run to the Trojan 4-yard line with less than a minute to play to setup Harling's third rushing touchdown of the game.
FC built a 22-6 halftime lead on the heels of their big play threat, Stoller, who is averaging 16.2 yards per carry and 39 yards per reception. After Harling's 21-yard touchdown run in the first quarter gave the Tigers an 8-0 lead, Stoller broke loose for a 52-yard TD run with 4:34 left in the second quarter to put FC ahead 14-0. Then, less than one minute after RC capped off a nine play, 62-yard scoring drive to cut the lead to eight, FC senior Ryan Mount found Stoller for a 54-yard touchdown pass.            
The Trojans answered in the second half, though, with three-straight scoring drives and 22 unanswered points. RC's Alex Kruse scored from one yard out with 8:34 left in the third to end an eight play, 66-yard drive. After a 3-and-out by the Tigers, by Lodema capped off a four play, 88-yard drive with a 71-yard TD run that gave RC a 22-20 lead. The third unanswered score came at the beginning of the fourth quarter when Lodema punched it in from three yards out and put his team ahead 28-22.
All was for not, however, as the Tigers made the plays in the fourth quarter.
Offensively, Harling and Stoller led the attack. Harling finished with 19 carries for 107 yards and three touchdowns, while Stoller carried it 10 times for 182 yards and a TD. He added two receptions for 78 yards and a TD. Mount carried eight times for 41 yards and also connected on his only pass of the evening – the 54-yard TD to Stoller in the second quarter.
Junior linebacker Weston Witt led the FC defense with nine tackles, seven of which were solo, and one quarterback sack. Harling also finished with seven solo tackles. Heckenlively and junior Lee Huettner each finished with four solo stops and Huettner added the third FC sack.
The Tigers, now 1-1, host 1-1 Omaha Concordia Friday night at 7 at Jug Brown.
Team Stats
                          FC           RC
First downs          16           22
Rushing           45-389     39-302
Rushing lost         24           17
Rushing net         365         285
Passing              3-6-0     13-22-0
Passing yds.        115         232
Fumbles lost         0             1
Punts-ave.        4-30.8      2-31.5
Punt Ret. Yds.      0             0
Kickoffs-ave.     7-37.0       6-33.2
Kickoff Ret. Yds.   60           81
Total return yds.   60           81
Penalties-yds.    11-80        5-52
Total offense       480          517
——
INDIVIDUAL STATS
Rushing
    FC — Stoller, 18-182, TD; Harling, 19-107, 3 TD; Mount, 8-41; Heckenlively, 6-29; DiGiacomo, 2-6.
Passing
    FC — Harling, 2-5-0, 61 yds., TD; Mount, 1-1-0, 54 yds., TD.
Receiving
    FC — Stoller, 2-78, TD; Hartman, 1-37, TD.
Punting
    FC — Mount, 2-83; Jordening, 2-40.
Kickoff Returns
    FC — Hartman, 4-52; Heckenlively, 1-8.
Kickoffs
    FC — McCann, 6-214, 35.7 avg.; Thompson, 1-45.
Tackles
(unassisted-assisted)
    FC — Witt, 7-2; Harling, 7-0; Heckenlively, 4-2; Huettner, 4-1; DiGiacomo, 3-1; Arnold, 1-3; Hartman, 3-0; Kirkendall, 0-3; Merz, 0-3; Stoller, 2-0; McCann, 1-1; Thompson, 1-1; Cooper, 1-0; Jordening, 1-0; Mount, 1-0; Zimmerman, 1-0; Ernst, 0-1.
Sacks
    FC — Witt, Huettner and Arnold, one each.
Tackles For Losses-Yards Lost
    FC — Witt, 1-8; Huettner, 1-6; Arnold, 1-6.