Dr. Robert Millard Burton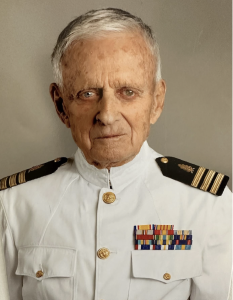 On October 27, 2023, the world lost an endeared husband, father and friend. Dr. Robert Millard Burton, known to many as Bob or Bobby, died peacefully surrounded by his two children. Born June 5, 1929, in Falls City, Nebraska, to Dr. M.U. Burton and Mrs. Elisebeth Gist Burton.
Bob enjoyed all sports, including tennis, golf, skiing, sailing, fishing and hunting as well as following the Huskers. In his youth, Bob worked with the US Forest Service in Colorado and helped build Gross Dam. He attended Texas Christian University in Ft. Worth, Texas on a basketball and track scholarship then later transferred to Westminster College in Fulton, Missouri.
Bob continued his education at the University of Nebraska Dental school where he was graduated with a D.D.S., M.S. focused on Pediatrics. Bob enjoyed social activities as a member of the Lincoln Country Club, and the Wahoo Creek Hunting Club.
Before opening his dental practice in Lincoln, Bob served in the US Marines and then transferred to the Navy where he served his country for 34 years. After Officer Training, he was stationed in the Great Lakes Naval station, and then on Okinawa, Japan as part of the Third Marine Division before returning to San Clemente, California. Once back in Lincoln, he started his dental practice while remaining active in the US Navy Reserve.
Bob married Judith Anne Flansburg, of Lincoln on December 17, 1955, and built a home in Lincoln where they raised their two children.
Bob is survived by his wife, Judith F. Burton, brother, Thomas Burton of Falls City, NE, daughter, Anne Reavis Burton (Christopher) of Denver, CO, son, James F. Burton of Miami, FL, grandchildren, Isabel Burton, William Burton, Camila Burton and Lucia Burton and many nieces, nephews, and friends.
Bob was preceded in death by his parents and sister Betty June Kentopp.
Memorial services will be held on Sunday, November 19, 2023, at 2:00 PM at Roper & Sons Chapel, 4300 O St, Lincoln, NE.
In lieu of flowers, memorials may be sent to: Star Island Protective League – Trails Fund, Attn: Barb Morris. 93 S. Paseo Sarta – A, Green Valley, AZ 85614, Eldora Land Preservation Fund (ELPF) PO Box 988 Nederland, CO 80466-0988. 
Condolences online at roperandsons.com