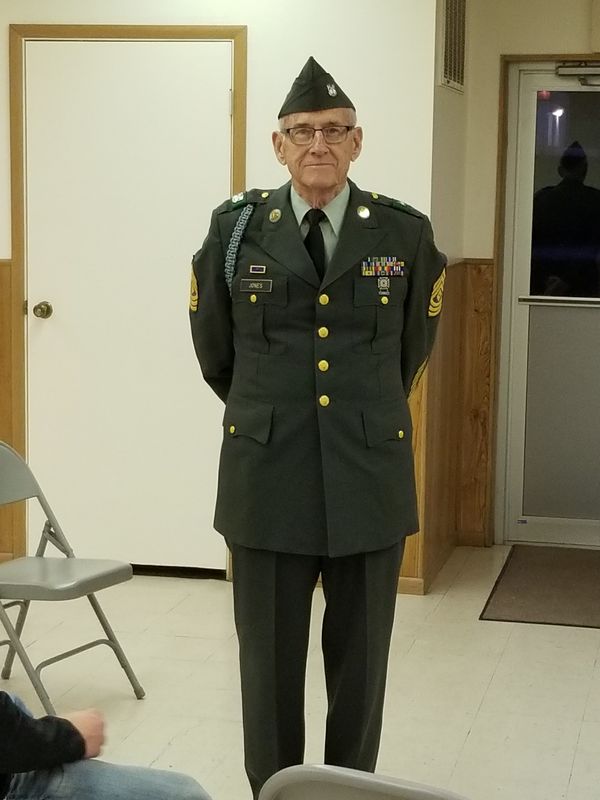 Rex Jones, 91, of Falls City, NE, passed away October 27, 2021 at Falls City. He was born December 24, 1929 at Falls City to John and Eva (Bonsal) Jones.
He married Virginia Hunker on February 21, 1954 at Falls City
Rex was raised at Falls City and graduated Falls City High School in 1948. Following his schooling he joined the Nebraska National Guard, becoming Company B 134th Infantry Division Unit Administrator at Falls City, retiring in 1985. He then worked various jobs and also owned The Front Porch with his wife. He was a member of St. Paul's Evangelical Lutheran Church (20th and Towle St.) and served on various committees, Falls City Elks Lodge, American Legion Post #102, and United Commercial Travelers. He was elected a Richardson County Commissioner, served on many community projects like refurbishing of Candle Light Cabin and was one of the members that started the Itha-Krumme Memorial Aboretum.. He and Bob Ferguson founded the "Wall of Fame" at Falls City High School.
Rex is survived by his wife Virginia of Falls City, daughters, Carlene Cudney and her husband Glenn, Brenda Scholl, Sally Merz and her husband Marc all of Falls City, grandchildren and great-grandchildren: Cara (Nathan) Cepuran of Falls City, Jordan (Kara) Cudney and their children, Hadlee, Henley, Maverick and Maizey of North Platte, NE, Ashley (Tom) Pfister and their children Sawyer, Emery and Davis of St. Joseph, MO, Ryan (Kim) Nolte and their children, Austin (Brianna) Ahern, Jaden and Chase Nolte of Falls City, Trenten (Jayna) Scholl of Nebraska City, Landan Scholl of Falls City, Allyson (Lee) Huettner and their children, Tessa, Willow and Ellori of Falls City, Logan (Emilie) Merz and their children Dax and Daphne of Auburn, Jeremy Silver of Lincoln, Lane (Chelsea) Merz of Allen, TX and Tucker Merz of Ft. Worth, TX. Great-great-grandchild, Stattler Ahern
His funeral will be held on Friday, November 5, 2021 at 10:30 AM at St. Paul's Evangelical Church (20th & Towle St.) with Wanda Beil officiating. Interment will be in Steele Cemetery. Military graveside honors by Falls City Ceremonial Honor Guard.
The family will receive friends on Thursday from 7-8:00 PM at Dorr and Clark Funeral Home.
Viewing will begin in the afternoon of Wednesday, November 3rd at Dorr and Clark Funeral Home.