Tigers finish northeast Kansas tour Thursday night at Horton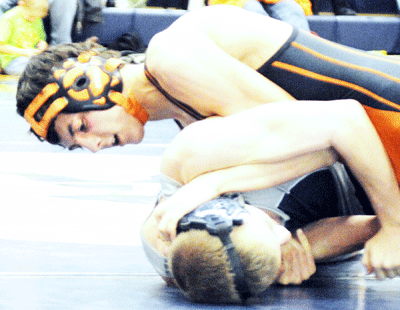 A mid-season  swing through northeast Kansas concludes Thursday in Horton for the Falls City High wrestling team, who traveled to Sabetha last Thursday and were in Marysville Saturday for the annual JayHusker Invitational.
Six varsity wrestlers competed Saturday and three brought home runner-up medals, while one other finished fourth.
Senior Chase Thompson at 182 pounds earned a first round pin over Donphin  West, then added a second round decision, 4-1, over Salina to reach the finals where he fell to Shawnee Heights to take home second place.  
FC's junior heavyweight, Jeremy Zimmerman, notched a late pin in the first round over Marysville and fought hard for a takedown to win a 2-0 match over Sabetha in the semifinals.  Jeremy fell in the finals to Shawnee Heights.
Morgen Valentine, a 138-pound sophomore, pinned Ben Meyer of Shawnee Heights in the first round and put himself in the finals with a 6-0 decision over Ben Meyer of Sabetha. Beloit's Wessling defeated Valentine, 5-1, in the finals.
Freshman Brody Smith reached the medal stand for the second time this season at 106 pounds.
Last Thursday at Sabetha, the Tiges competed in their first duals of the season, first against Maryville (MO) and then against the hosts.
Maryville defeated FC, 44-30, and Sabetha cruised to a 54-15 victory.
Results against Maryville were as follows:     126 – Nathaniel Alexander won by pin over FC's Deven Nycum; 138 – Valentine won by pin over Clayton Farrel; 145 – FC's Justin Ernst won by pin over Logan Zimmerman;     
152 – Dane Hull won by pin over FC's  Blake Black; 160 – Trevor Zimmerman won by major decision, 15-1, over FC's Carter Hunzeker; 195 – FC's Thompson won by pin over Cody Jackson; 285 – Brendon Weybrew won by major decision, 8-0, over FC's Zimmerman.
Results against Sabetha: 106 –     Seth Harrell won by pin over FC's Brody Smith; 126 – FC's Nycum won by decision, 12-7, over Corbin Halls; 145 – Matt Burdick won by decision, 7-0, over FC's Ernst; 152 – Kyler Krebs won by decision, 10-5, over FC's Blake Black; 182 –  FC's Thompson won by decision, 4-3, over Brandon Poe;  220 – Taylor Meyer won by pin over FC's Alex Olsen; 285 – FC's Zimmerman won by decision, 2-0, over Jacob Leuthold.
Thursday's double-dual in Horton includes HTRS and begins at 5:30 p.m. The Tigers compete Saturday at Plattsmouth beginning at 9:30 a.m.