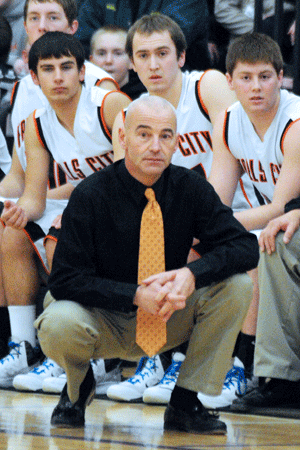 Falls City Middle School physical education teacher and FC High Head Boys' Basketball Coach Don Hogue, photographed here during the Tigers' district championship game victory over Lincoln Christian two weeks ago in Nebraska City, was named the new FC Public Schools Athletics Director Wednesday afternoon. Hogue will replace long-time A.D. Darwin Palmer who is resigning after this school year.  Journal File Photo. 
Falls City High School Head Boys' Basketball Coach Don Hogue will move from the FC Middle School gym to the high school athletic director's office, FCHS Principal Gale Dunkhas announced Wednesday afternoon. Hogue has been the physical education teacher at FC Middle School since 1998. He now succeeds Darwin Palmer, who is retiring after a 23-year career, as Tiger Athletic Director. Hogue was one of just two men interviewed for the job – the other an unnamed applicant from a Missouri high School – and the choice was an easy one, according to Dunkhas.
"Don did a great job in his interview and, really, it was a slam dunk," Dunkhas said. "I really look forward to working with Don on a daily basis here at the high school. He's a professional and a hard worker who puts his heart and soul into his work."
Hogue has been the Tigers' head boys' basketball coach since 1999 and this winter surpassed the legendary Jug Brown to become the winningest Tiger coach of all-time. He previously was also involved with the high school football team, serving as an assistant from 1992 to 2006 before becoming head coach from 2007 to 2011. Hogue, a Dawson-Verdon and Peru State College graduate (he was a Jet player for Coach Palmer in the 1980s), has only professionally worn orange and black. He earned his Master's Degree in Education from Doane College in 2003.
"I'm looking forward to working with the rest of the administration and coaches to ensure that our student-athletes are getting every opportunity to grow and succeed," Hogue said.
This past winter, Hogue's Tigers won a school-record 24 victories and district championship, making a return trip to the state tournament after a four-year hiatus. That trip, in 2010, ended a 47-year drought, dating back to 1963. Triumph-turned-tragedy may best describe the experience in Lincoln last week, as FC suffered arguably the most heartbreaking loss in school history. FC lost in overtime to Wahoo High School, one of the most decorated and celebrated basketball programs in state history – a program boasting of, among other accolades, 10 state titles and a state-record 114-game winning streak. But the OT proved anticlimactic after the Tigers led the defending state champion Warriors by two points with less than three seconds to go in regulation before a full-court Hail Mary of an inbounds pass was miraculously tipped into the hands of a Wahoo player, who scored the tying bucket with two-tenths of one second remaining on the clock. The Warriors went on to win the game by six, took the semifinal over Wayne by 15 points and eventually finished runner-up in Class C1. Falls City finished fifth in the final rankings.
The Tiger turnaround engineered by Hogue can be described as nothing less than astounding. After winning the Class B State Championship in 1963, boys basketball at FCHS entered an ice age that lasted nearly half a century, extending six years into Hogue's tenure. After the 2004-05 season, his teams had captured a grand total of 35 victories – against 106 losses. But the following season signaled a rebirth, and Falls City has consistently performed among the top teams in Class C1 ever since, posting a 164-60 record while earning Top 10 final rankings five times and finishing runner-up in the district three times to go with the two district titles and two state tourney berths.