Freeman's buzzer-beaters sink Irish at MUDECAS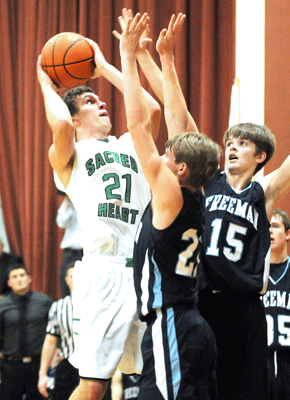 A rarity occurred Saturday night, the likes of which Falls City Sacred Heart Head Coach Doug Goltz had never seen.
Freeman, ranked eighth in Class C2, connected on three buzzer-beating three-pointers and prevailed over  the Class D2 second-ranked Irish, 47-42, in the A division championship game of the 85th annual MUDECAS tournament in Beatrice.
Nine points by the Falcons Isaac Frerichs, Cole Schuster and Cullin Bloom in the span of about five seconds overshadowed a solid effort by the Irish, who fell to 12-2 on the season and 0-2 against Freeman.
"I don't recall that ever happening before," said Goltz of the buzzer-beaters. "It gives a team momentum, so it hurt us and helped them. Nine points in a close game is lot to overcome. We need to be more aware at the end of the quarters and execute better defensively to try and take away those last second shots."
Schuster, a returning C2 all-state selection who finished with a game-high 16 points, drained two three-point shots in the final sixty seconds of the half, including the bomb at the horn, to erase the Irish's six-point lead and sent the two teams to the lockers nodded at 20-20.
The third quarter was a see-saw battle that featured five lead changes and one tie before Freeman's Cullin Bloom beat the buzzer with his only three points of the contest and extended the Falcon's lead to 35-29.
A three-pointer from Irish senior Chaz Dunn cut the Falcons lead to three just 20 seconds into the fourth, then Irish junior Austin Malone, who finished off an excellent week with a team-high 15 points, scored twice in the next two-and-a-half minutes to keep it a one possession game. Senior Colin Niemeyer capped off the 9-3 Irish run with a pair of free throws and tied the game, 38-38, with just over four minutes to play.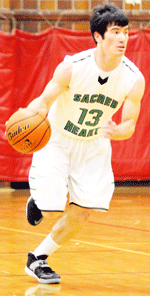 Freeman controlled the final half of the quarter, though, as they scored 12 points of the final 16 points and forced turnovers in two of FCSH's final three possessions to seal the victory.
"We were just trying to run our offense, but we didn't execute at a couple critical times due to turnovers," Goltz said.    
Frerichs only made three-pointer of the game came in bizarre and controversial fashion at end of the first quarter and with his team holding an 11-8 lead. With 0:01 left on the clock, Frerichs in-bounded the basketball to a teammate, stepped in bounds, then received a return pass and launched a shot attempt from roughly 30 feet that banked off the glass and in.
"Everyone in the gym knew that the amount of time on the clock and what happened on the court couldn't have happened," Goltz said, adding "the clock operator must have started the clock late, which gave them enough time to pass, catch and shoot."
Goltz argued his point immediately after and was told Frerichs released his shot before the buzzer sounded.
FCSH rallied in the second quarter behind Dunn and Matt Goltz, who each scored five points in the frame and turned the four-point first quarter deficit into a six-point lead with under a minute left before halftime. FCSH attacked the paint in the second period, which resulted in 11 of their 15 free-throw attempts.
"We did attack their zone well at times, but sometimes we didn't," Goltz said. "Freeman is a very good defensive team. That makes it difficult to the get the ball in the paint."
All in all, coach Goltz, whose Irish teams have won the A division three times – the last in 2004 – seemed please with the week that was. Wins over Pioneer Conference foe, Lewiston, and the seventh-ranked team in D2, Exeter-Milligan, leave the Irish with plenty to build upon, despite Saturday's outcome.
"We played three very good teams, all three games were close, and we played pretty well in all three of those games," Goltz said. "That will help us as the season continues."
Dunn finished with 13 points, including 2-for-2 from downtown, and Goltz connected on all but one of his field goals to finish with 10 points. Malone and Goltz each grabbed six boards, while Niemeyer led the Irish with four assists.
Dunn and Goltz were named to the All-Tournament team, while Niemeyer and Austin Malone received Honorable Mention.
FCSH traveled to Rock Port (MO) tonight  and host Pawnee City this Friday.
SCORING
A Division Championship
Saturday
FCSH 42, Freeman 47
FCSH – Niemeyer 2, Dunn 13, Malone 15, Goltz 10, Strasheim 2.
Freeman – Frerichs 15, Schuster 16, Bloom 3, Veerhusen 3, Scott 4, Mackichan 6.
Semifinals, Thursday
FCSH 46, Exeter-Milligan 43
FCSH – Dunn 11, Malone 10, Goltz 11, Scheitel 2, Fiegener 8, Strasheim 4.
E-M – D. Luzum 10, Sluka 2, Zeleny 3, White 18, Jensen 5, Aribyl 5.
First Round, Tuesday
FCSH 60, Lewiston 53
FCSH – Niemeyer 12, Dunn 8, Malone 9, Goltz 20, Scheitel 3, Fiegener 4, Strasheim 4.
Lewiston – Singleton 26, Albers 12, Nouzovsky 5, Speckman 10.