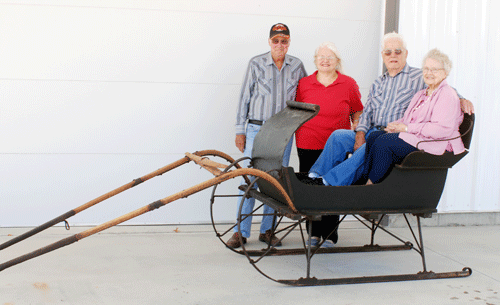 From left: Bill and Susan Sipple, and Bob and Margaret Zimmerman.
This one-horse open sleigh originally belonged to my great-grandfather, Ludwig (Louis) Zimmerman. He was born in Spock, Baden, Germany, on Feb. 8, l850. He immigrated to the United States, arriving in New York City on May 25, l867.
After his marriage to Amelia Reschke on Oct. 26, l875, in St. Joseph, MO, he came to Richardson County and purchased an 80-acre farm from Adolph Reschke and wife on July l0, l878. That farm is still in our family today.
He became a citizen of the United States on March 5, l89l. He purchased other land and was a successful farmer, also raising three sons and one daughter. My grandfather, Gust Zimmerman, was one of his sons.
It has been suggested that the sleigh is handmade. My dad, Robert Zimmerman, was born in l923 and as long as he can remember it was stored on the rafters in our corn crib on the farm. One time when my dad was about 18 or 19 he and a neighbor, Hank Wulf, used a block and tackle to get it down from the rafters. They changed the tongue and pulled it with a couple of mules to another neighbor's about three miles away. It was a lot of fun, but they put it back in the rafters and it was never used again.
About l997 we decided to move it to our barn in town.  It has been there since. I would have liked to have displayed it at Christmas but I knew it would deteriorate in the wet weather. I thought the Richardson County Historical Museum would be the perfect place to preserve it and for other people to view it.