Maze's 'Delirium Trigger' debuts here Oct. 25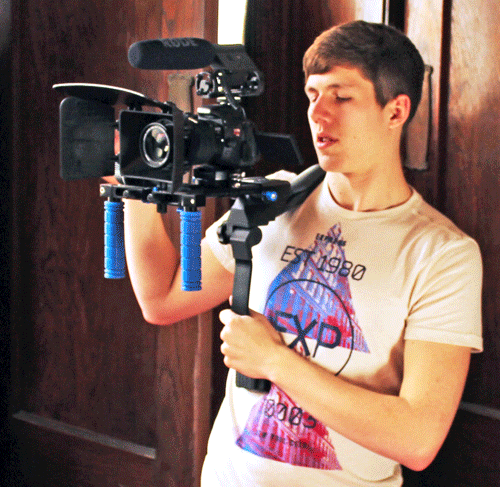 Brent Scott Maze will show Delirium Trigger at 6 p.m. Friday, Oct. 25, in the Stalder Gallery of the FC Library and Arts Center.
Yep, the rumors are true.  Ted Fischer and Guenter Hussenoeder really are starring in a movie together, and the film will premiere right here in Falls City.
Seriously?
Seriously.
Delirium Trigger, a 27-minute short film by local aspiring filmmaker Brent Scott Maze will be shown in the Stalder Gallery of the Falls City Library and Arts Center at 6 p.m. on Friday, Oct. 25.  And you will want to be there.
The film is about a young assassin who takes a routine assignment and ends up questioning his motives and choices.  It's a character-driven independent film that moves the same way life moves — slowly in some places, then like a spinning wheel in others.  It makes the viewer think and feel.
If you like those kinds of films, you'll love this one.  If you don't, you may not.  But either way, you will want to be there.  Why?  Firstly, because Brent Maze is a local college kid who is studying film and media at UNL, and this is his first major film.  You'll want to be there to support him.
To read the full article please sign-up for or purchase the Journal's new e-edition.
The E-edition is FREE with your 1-year paid subscription to the print edition of the Falls City Journal. If you are not a subscriber to the print edition, you can purchase a 1-year subscription to the E-edition for only $25 via Pay Pal. A Pay Pal account is not needed to purchase and security is guaranteed.
The E-edition is an exact replica of the printed edition and will be available each and every Tuesday morning! Users will not need to wait on the Journal to arrive in the mail and can access all our weekly paper has to offer 24 hours a day, 7 days a week from a catalogue of E-editions dating back to January 6, 2011.
Instructions for registering. (Please note the two options)
1.) Those with paid subscriptions to the print edition of the Journal please click HERE. A new window will open and you will be redirected to the e-edition application. Please read the instructions at the top of the page before filling out the registration.
or
2.) For those looking to purchase the E-edition, on the left side of the home page click on the blue 'Create an account' link. You will be taken to a new page where you will need to fill out the necessary information. Select "E-edition" under the subscription plan and you will be directed to the Journal's PayPal account where you will pay for your subscription. After payment you will be directed back to the site to log-in and begin use.