Finck awarded Cecil Murphy Scholarship
The Sacred Heart School Activities Banquet was held at O'Connor Hall Saturday night, with a packed house enjoying a potluck meal.
High school students were recognized for their achievements in football, volleyball, basketball, track, choir, band, speech, one act, quiz bowl and dance team. Bob Aitken served as master of ceremonies and welcomed the Class of 2013 into the alumni association.
Fr. David Oldman led the invocation. Bill Rowan, Grand Knight, presented Msgr. Roh with a check for proceeds from the annual Knights of Columbus fish fry.  Doug Goltz handed out awards to students for participation and varsity letters in extracurricular activities. Coaches and sponsors recognized students for their extracurricular achievements.
Clay Finck was awarded the Cecil Murphy Scholar/Athlete Scholarship; Sandy Bangert and Chaz Dunn were named Choristers of the Year; Rachel Parrish and Clay Finck were named top Band Students of the Year; Antonia Kean and Colin Niemeyer were named overall Top Music Students of the Year; and Emily Rohrer and Jarod Fiegener were name Weightlifters of the Year.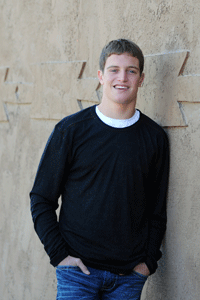 Students recognized and thanked Diana Eickhoff and Shannon Stemple for their dedication and years at Sacred Heart School, as both teachers will be leaving at the end of this school year.
The Benediction was led by Msgr. Roh.