No doubt about it, Huettner and Poppe Outstanding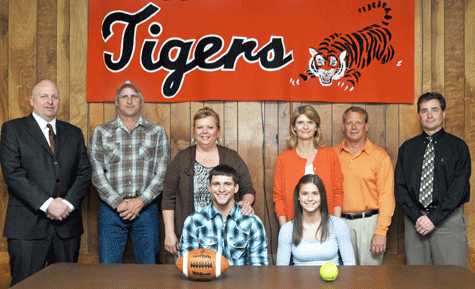 OUTSTANDING REPEAT. Falls City High seniors Cord Huettner and Claire Poppe were named the 2012-13 Outstanding Boy and Girl Athletes for the second year in a row at Sunday night's 43rd Annual Tiger Booster Club Athletic Banquet. Cord is pictured with his with parents Jim and Mary Jo Huettner and Tiger head football coach Darin Fritz. Joining Claire are her parents Kristen and Brian Poppe, and Joe Dunn, who coached Claire all four years in softball.
Falls City High athletes were recognized Sunday night for their efforts the past year during the 43rd annual Tiger Booster Athletic Club Banquet, held at the Falls City Elk's Lodge.
The Elk's officers prepared and served the meal, then newly installed Exalted Ruler Josh Ramer welcomed and thanked those .
The guest speaker for the night was Tim Wilson, a 1976 Falls City High graduate who currently serves as the Strength and Conditioning Coordinator for the University of Nebraska Men's Basketball Program. Wilson just finished his second season with the Huskers after spending three seasons at the University of Oregon. Wilson spent 11 seasons in the NBA working with the Milwaukee Bucks and had stops at the University of Pittsburgh, UNLV and the Chicago White Sox.
Wilson shared stories about working with baseball Hall of Famer Carlton Fisk, NBA head coach George Karl and one of the greatest shooters in NBA history, Ray Allen.
Wilson pointed to four important traits a person should possess in order to be successful, in any endeavors. The four traits he noted were being passionate, a great work ethic, persistence and learning from mistakes.
"Some times there is a fine line between success and failure, you don't even know you are standing on it," Wilson said. "If you are just a little more persistent, give a little bit more effort you can go over that line to success."
Wilson compared this to a stonecutter, who repeatedly hits the stone without seeing any results, but will not give in or quit because of frustration.
"This guy hits this big stone  99 times and he's not even making a dent in it. Then, on the 100th strike, it splits in two. The accumulation of hits because of persistence finally broke that stone. You have to be persistent. You have to hang in there. And if you do those things, at some point, you'll go over from being a failure to being successful.
"Failure is like fertilizer. It helps future things grow. And always remember this, the road to success is always under construction."
The Tiger coaches then gave brief summaries of their seasons and handed out team and individual awards.
Booster Club Secretary Kristen Poppe presented 31 student-athletes with Scholar Athlete Awards. Booster Club Treasurer Judy Ivey and past president Gina Scheitel handed out the six Tiger Booster Club Scholarships – Claire Poppe, Cord Huettner, Tressa Chandler, Wade Maddox, Wade Witt and David von Behren.
The final awards handed out were for Outstanding Girl and Boy athlete. Seniors Claire Poppe and Cord Huettner, who both received the award as juniors and were the clear favorites to repeat, were honored again as the Outstanding Girl and Boy Athletes.
Outgoing Lady Tiger head softball coach Joe Dunn, as he did a year ago, presented Poppe with the award.
"I feel very honored to be giving this award away to such a deserving young lady," Dunn said. "She was a great role model to all her teammates. She will be missed and always remembered for her accomplishments as a student-athlete at Falls City Public Schools."
In softball this past fall, Poppe was the offensive player of the year, pitcher of the year and was voted as the team's most valuable player. She was a first-team All-State selection in Class C by the Lincoln Journal Star and was vital in leading FC to a school-record 21 wins. Poppe set single-season records in 2012 in batting average (.489), runs scored (41), hits (46), doubles (11), homeruns (9), on-base percentage (.560) and RBIs (38).  Poppe was also FC's ace on the mound and set a new single-season mark for wins with 21 and finished just three strikeouts (104) shy of Laura Jones 2005 total.
Claire, whose parents are Brian and Kristen Poppe, was a three-year starter for head coach Max Milam and the Lady Tigers basketball team. She broke the school record this past season with 49 made 3-pointers en route to the fifth best single season point total (297) in school history. Her 530 career points ranks 13th all-time at FC.
Poppe has also competed in track all four years and leads the girls' team in scoring this season.
She will attend Nebraska Wesleyan  University in Lincoln in the fall with the intent to play softball for the Prairie Wolves.
Cord Huettner is the son of Jim and Mary Jo Huettner and was a three-sport athlete for the Tigers all four years. Huettner was a three-year starter in football and basketball and qualified for the State Track Meet in the shot put as a junior and could very easily qualify in the same event at Thursday's Class B-1 District Meet in Auburn.
Huettner's 356 points on the hardwood this past winter ranked 15th all-time for single-season scoring and in three varsity seasons for head coach Don Hogue, he climbed all the way up to seventh in career scoring with 855 points, despite being one of the smaller "bigs" in southeast Nebraska at 6 feet 2 inches. A team captain in both his junior and senior seasons, Huettner helped lead FC to 23 wins in 2012-13, which tied the school record for single-season wins set in 2009-10 and the Tigers 13-0 start this winter was the best in school history. He was a part of 74 wins, three district finals and a member of the 2010 Class C1 State Qualifier.
Tiger head football coach Darin Fritz introduced Huettner and presented him with his award.
"A coach could not ask for a better leader, or role model," Fritz said about Huettner. "Along with his talent, he is a student of the game and is a tireless worker in the weight room and the class room. Above and beyond all that, he is a great person with a great heart. He defines the word teammate."
Huettner excelled on the gridiron and helped rejuvenate a Tiger football program that prior to last September had dropped 13 games in a row. His 6-2, 210-pound frame presented opposing tacklers plenty of problems, as few teams had an answer for Huettner, whose toughness was second-to-none and his deceptive speed helped him pull away in the open field.
Huettner showed the entire repertoire in the 54-7 dismantling of Lincoln Lutheran on Homecoming. In the first half, Huettner gashed Lutheran for 313 rushing yards, five rushing touchdowns and added a 25-yard touchdown pass.Huettner finished the game with a new single-game school record for rushing yards with 369.
Cord was a member of the Lincoln Journal Star's All-C1 offense and the Omaha World Herald selected him to their All-C1 defense as a linebacker. Huettner led the Tigers with 95 tackles, 38 of which were solo.
He leaves the Tiger football program as the career leader in rushing yards with 2,403 yards and his 1,418 yards last fall ranks second all-time at FC for single-season rushing yards.
Cord is also headed to Lincoln in the fall and will attend Nebraska Wesleyan University with the intent to join his older brother Michael on the Prairie Wolves football team.