Swift In'Justice', late FC run comes up short in OT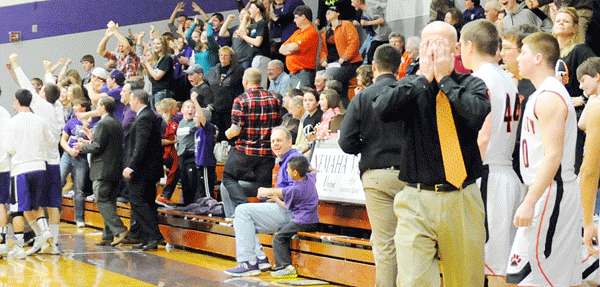 ---
A valiant comeback by Falls City proved futile Saturday night in the championship game of the Raider Classic at Seneca, KS when Nemaha Valley's Justice McKernan drained an 18-foot, fade-away jumper from the right baseline as time expired and sealed the thrilling 68-66 victory.  
The game-winner from McKernan, who scored eight of his 12 points in the fourth quarter and overtime, came just seconds after FC senior Mitchell Harling evened the score at 66 with his lone three-pointer. But on that night, it wasn't meant to be for FC, which lost for just the second time this season (16-2).
FC Head Coach Don Hogue hoped they could keep the ball out of McKernan's hands on the final play, but was pleased with how his players reacted during the play and defended the shot.
 "Jordy (Stoller) was staying with him and Mitchell (Harling) was down on the block and came out and helped close out on him," Hogue said. "We really had two guys there, but he (McKernan) leaned back and made a tough shot."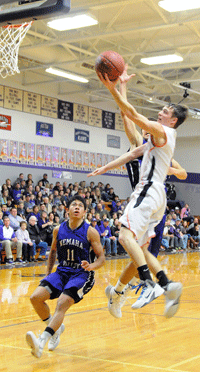 The Tigers, hand-cuffed by fouls to two starting post players and forced to lean heavily on its bench, battled throughout and nearly pulled off an incredible comeback with a 17-4 run in the fourth quarter, highlighted by senior Tyler DiGiacomo's game-tying three-pointer with six seconds left to force overtime.
"You never want to lose, but to see the toughness and the heart and to be able to go to our bench for two or three minutes at a time with certain kids who hadn't really played that much this year, I felt like this game will really help us," Hogue said. "There's a lot to learn from that loss and that's what I told them."
FC's Reese Hogue and Jack Hartman were each whistled for three personal fouls in the game's first seven minutes, which forced Coach Hogue to call on his bench players early and into roles few of them had experienced. FC also switched from their man-to-man defense to a 3-2 zone to counter NV's tall, athletic frontcourt.
The Raider's Caleb Meyer (6-5) and Abe Elder (6-3) did nearly all of their damage in the first half. The two combined to score 23 of their 33 points in the first half. NV also became just the third team this season to edge theTigers on the glass, as they out-rebounded FC, 34-20, including a 13-6 advantage on the offensive boards.
Trailing 44-40 to start the fourth quarter, FC's deficit grew to 13 points when NV's Tristan Allen was fouled on a shot attempt in the lane by Reese Hogue, who was forced to exit with five fouls. Allen added the free throw to complete the three-point play, but the Tigers, behind Harling, Hartman and Stoller, stormed back.  
"The lead that they'd gotten was because we gave up some easy hoops in our zone," said Hogue. "We went back to our man defense and our guys really cut loose. Jordy was attacking the rim, we were getting to the line and we were in the 1-and-1 at the time, so we just needed to stay the course."
Hartman, who was forced to the bench for more than 11 minutes in the first half because of foul trouble, scored all 11 of his points in the second half, including five during FC's 17-4 run. Harling added five of his 14 points during the run, while Stoller came up with two critical steals and four points down the stretch to set up DiGiacomo's game-tying three-pointer. Stoller finished with a game-high 23 points and five steals.
Hogue, whose team fell to NV in the Raider Classic championship for the second-straight year, said the loss could serve as a confidence builder for his bench players whose roles increased dramatically Saturday night in a tough environment.
"With Teddy (Stutheit) and  Zach (Jordening) and the rest of the guys who gave us minutes off the bench, we just wanted them to go in there and play," Hogue said. "Ryan Mount had a big offensive board and put back, then a great assist to Jordening on a backdoor cut. I thought they all really did a nice job for us."  
FC will look to add to their state-leading 16 wins Friday night during Parent's Night when they host the seventh-ranked team in Class D1, Nebraska City Lourdes (12-3). The reserves game starts at 5 p.m., followed by the junior varsity at 6 and the varsity at approximately 7:45.
Saturday Scoring
FC – Stoller 23, DiGiacomo 6, Harling 14, Hartman 11, Mount 2, Witt 7, Jordening 3.
NV – Henry 5, Meyer 18, McWilliams 3, Hermesch 5, McKernan 12, Allen 6, Elder 15, Haverkamp 4.