Irish teams sweep Pawnee City, Rock Port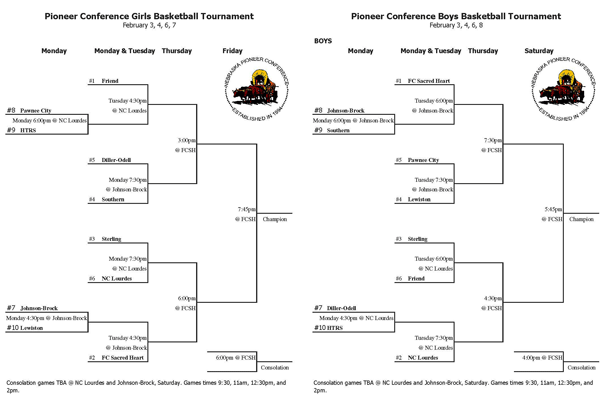 ---
Falls City Sacred Heart's boys and girls basketball teams improved to 14-2 and 15-1, respectively, last week after a clean sweep of games at Rock Port, MO last Tuesday and  at home Friday against Pawnee City.
The top-ranked Lady Irish  jumped on top of Rock Port 22-2  after the first quarter and cruised to a 55-17 victory.
 SH recorded 17 assists on 22 made field goal attempts and had four players – senior Ashli Jordan, juniors Abby and Elizabeth  Magdanz and freshman Lexi Barnes – each finish with three assists.  
Freshman Haylee Heits finished 7-for-9 from the floor and led SH with 15 points and eight rebounds.  Jordan added nine points, as did Abby Magdanz, who accounted for three of SH's seven made three-pointers.
Pawnee City hung around early Friday night at Prichard Auditorium, but a 9-for-18 performance from downtown by SH propelled them to a 61-33 victory.
Elizabeth Magdanz hit 4-of-6 from deep and led a trio of Lady Irish players in double figures with 14 points. Goltz added 11, whileAbby Magdanz finished with 10. Goltz blocked three shots, Heits led the way on the glass with six rebounds and Jordan swiped five steals and dished out six assists. Barnes and junior Kelsi Fouraker added three assists each for SH, who bettered their assists performance from Tuesday's win with 18 assists on 23 made shots.
SH travels to Wymore (11-5) tonight in a rematch of the MUDECAS third-place game that SH won 38-21.
Johnson-Brock comes to town Thursday night and then SH travels to Nebraska City Friday night for a game with Lourdes Central Catholic.
The Lady Irish are seeded second and earned a first-round bye in next week's Pioneer Conference tournament, which returns to Prichard Auditorium next Thursday and Friday for the semifinal and championship rounds.
—
Chaz Dunn hit two of his three three-point shots in the first quarter  Friday night and helped the Irish build a 20-7 lead en route to a 53-39 victory over Pawnee City.
The Irish finished 17-of-30 from the floor, including 6-of-12 from three-point territory and held a dominant 28 to 13 advantage in rebounds.
Dunn's 13 points and six assists were game-high totals. Seniors Jarod Fiegener and Colin Niemeyer scored 11 and 10 points, respectively, while senior Matt Goltz finished with 10 boards and three blocks.
SH shot nearly 60 percent (24 of 41) from the floor last Tuesday at Rock Port and drained eight three's in their 61-38 victory.
Niemeyer and junior Logan Scheitel accounted for six of those eight three-pointers (three each) and finished with 14 and 12 points, respectively.
Dunn started the week much like he finished it, pacing his team with a game-high 15 points and eight assists. Junior Austin Malone grabbed eight rebounds to go with six points.
SH heads to Wymore tonight for a game with 3-11 Southern, then host Johnson-Brock Thursday night.  
SH are the top seed in next week's conference tourney, which begins Monday and Tuesday with first-round games  at Johnson-Brock and Nebraska City Lourdes before moving to Prichard Auditorium for the semifinal and championship games.
This week's games with Southern and J-B are a preview of SH's first-round opponent next week, as one of the two will advance Monday and face SH at 6 p.m. Tuesday in Johnson.