Rotarians honor area's top seniors
2013 Rotary Scholarship winners, from left: Ashley Crawford, David von Behren, Elizabeth Eickhoff and Bethany Lampe. Photo by Jim Langan.
"Up, up and away!"
That is of course Superman's iconic catch phrase, made popular in the early years of his famous comic book career.  With "The Man of Steel" being the focus of University of Nebraska Physics Professor and guest speaker Dr. Daniel Claes' presentation at last Wednesday's Falls City Rotary Club Honors Banquet, the old expression also seemed an accurate description of the promising futures of Falls City's best and brightest seniors.
Ten members of the class of 2013 – eight from Falls City High, two from Falls City Sacred Heart – all ranked in the top 10 percent of their respective classes were recognized for their efforts in the class room, as well as their involvement in numerous school and community activities at the annual Rotary event.
The Falls City High students recognized were: Ashley Crawford, Bethany Lampe, Courtney Chapple, Elizabeth Eickhoff, Cord Huettner, Amie Wiltse, David von Behren and Claire Poppe; and Janey Malcolm and Matt Mullins from Sacred Heart.
Four of the students also received Rotary Scholarships, with von Behren being the night's first recipient.
David, the son of John and Glenda von Behren, was awarded the $400 Falls City Rotary Club Scholarship. He holds a 4.0 grade point average and is the President of the National Honor Society. David was a four-year member of the Student Council and has been an NSAA Academic All-State and Letter winner in cross country, track, speech, one-act play, chorus and band. An accomplished musician, David was a member of the 2012 NAFME All-National Orchestra and performed at the Kennedy Center in Washington D.C. in June of 2012. He was named a Jack Kent Cooke Scholar and will be performing as an organist on the National Public Radio Show, "From the Top" hosted by concert pianist, Christopher O'Riley, for the show's taping in El Paso, TX on June 1. This fall, David will be attending the Cleveland Institute of Music Conservatory in Cleveland, OH. He was one of two students in the United States accepted to his program where he will pursue a Bachelor of Music Degree in Organ Performance/Sacred Music.
The $450 Nellie Ebel Memorial Scholarship was awarded to Bethany Lampe. Bethany is the daughter of Mike and Angie Lampe. She holds a 3.98 GPA and served as the Treasurer of the National Honor Society. Bethany was a captain of the volleyball team, a member of the leadership committee on the Fellowship of Christian Athletes and served on the Student Council. Throughout high school, Bethany participated in many music activities such as competitive show choir, flag corps, musical play production, the madrigal, marching band and chorus. She was a member of the dance and mock trial teams and competed in basketball, track and volleyball. Outside of school, Bethany volunteered as an instructor at Vacation Bible School, assisted with the Summer Lunch Program, was a bell ringer for the Salvation Army, packed shoeboxes for Operation Christmas Child and helped with the Red Cross Bloodmobile. Bethany will attend the University of Nebraska-Lincoln in the fall where she will major in elementary education.
The third scholarship of the night was awarded to the Elizabeth Eickhoff, who is the daughter of Marty and Mary Eickhoff. Elizabeth was the recipient of the $450 Louis Ebel Memorial Scholarship. Elizabeth maintained a 4.0 GPA throughout her high school career all while taking weighted and college level courses. She was inducted into the National Honor Society as a sophomore. Throughout high school, Elizabeth was active in FCA, band, flag corps, Applederas, musical play production and chorus. She was a member of the math contest team, dance team, mock trial, and PALS Club, as well as being a four-year member of the Lady Tiger basketball program. She also competed in volleyball and track. Elizabeth served as Class Treasurer all four years and was a four-year member of the FFA, where she served as President this past year. Elizabeth recently received her State FFA Degree and twice placed first at the district land-judging contest, which helped her team advance to the state competition. She has served as the president of the 4-H Club for the past four years and this past fall, she was a high school role model for the local D.A.R.E. Program. Elizabeth plans on attending Northwest Missouri State University in the fall and will major in Agricultural Business.
The final scholarship of the night – The $600 Wilber Roesch Math Scholarship – was awarded to Ashley Crawford. Ashley is the daughter of Clay and Chris Crawford. Ashley enrolled in many college level courses and maintained a 3.8 GPA. She is a member of the National Honor Society and was on the honor roll all four years. She participated and had success in several math competitions. Ashley will attend the University of Nebraska-Lincoln majoring in accounting for five years to attain her C.P.A.
Following the presentation of the scholarships, Dr. Claes presented, "Comic Book Physics 101," an informative and entertaining look at the physics behind some of Superman's signature moves, i.e. leaping tall buildings in a single bound, being faster than a speeding bullet or more possessing more power than a locomotive. He also discussed the Planet Krypton, the origin of the Fantastic 4, the X-men and the Flash.
Falls City's Rotary Club was founded in 1920 and the club began awarding scholarships 35 years ago. Glenda Nelson emceed the event, as Rotary Scholarship Chairman Merle Veigel was not able to attend.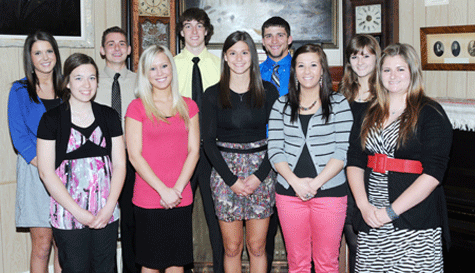 The  2013 Rotary honorees were, back row from the left: Janey Malcolm, FCSH; David von Behren, FCHS; Matt Mullins, FCSH; Cord Huettner, FCHS; Courtney Chapple, FCHS; front row, from left: Elizabeth Eickhoff Ashley Crawford, Bethany Lampe and Amie Wiltse. Photo by Jim Langan.