UNL benefit for Kathy Bartek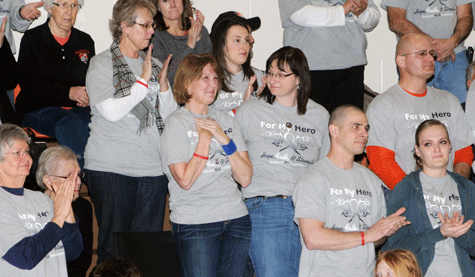 Kathy Bartek, of Falls City, has been selected as the recipient for UNL East Campus Bull Fry Event April 13.
Bull Fry is one of the largest philanthropic events held by a UNL organization.  This event raises anywhere from $5,000-$10,000 for a family in need. The residents of Burr, Fedde, and Love Halls on East Campus submit candidates and then vote on which one they wish to be the recipient.
Kathy, a 24-year dedicated – and decorated – member of the Falls City Public School Board, was last year diagnosed with ALS, otherwise known as "Lou Gehrig's Disease."
The Bull Fry itself is a day of fun and food.
"We serve a dinner usually containing hamburgers, hotdogs, bull fries (rocky mountain oysters), chips, potato salad, cookies, and drinks," event spokesperson Rachel Stevens said. "We offer giant inflatable games, a rock wall, mechanical bull, and dunk tank. All the proceeds go towards the family.  We also sell t-shirts and sometimes have other competitions as well as homemade cotton candy. Accompanying the Bull Fry is the Bull-A-Thon.  This event is held on the Friday before the Bull Fry at the East Campus bowling alley. Teams of four compete for prizes that were donated or bought with donations.  Once again all the proceeds go to the family."
The Bull Fry is held from 4-8 p.m. Saturday, April 13. The meal costs $8 and games another $8, but discounts are available when purchasing both in advance. The Bull-A-Thon is from 7-11 p.m. Friday, April 12, at the East Campus Union.
ALS, is a progressive neurodegenerative disease that affects nerve cells in the brain and the spinal cord. Motor neurons reach from the brain to the spinal cord and from the spinal cord to the muscles throughout the body. The progressive degeneration of the motor neurons in ALS eventually leads to their death. When the motor neurons die, the ability of the brain to initiate and control muscle movement is lost. With voluntary muscle action progressively affected, patients in the later stages of the disease may become totally paralyzed.
Approximately 5,600 people in the U.S. are diagnosed with ALS each year. The incidence of ALS is two per 100,000 people, and it is estimated that as many as 30,000 Americans may have the disease at any given time. ALS occurs throughout the world with no racial, ethnic or socioeconomic boundaries.
For more information, contact Stevens at rachelhstevens@yahoo.com