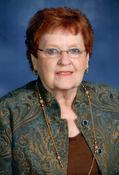 Shirley Ann Dorste Guilliams, 82, was born at home on the family farm in Rulo, Nebraska, on February 10, 1938.  She went to the house of the Lord on Wednesday, March 18, 2020.
Shirley attended grade school at Fort Hazel, Rulo, Nebraska, in a one-room schoolhouse. She attended high school in Falls City, Nebraska, graduating class of 1956 and Peru State Teachers College in Peru, Nebraska. She taught grades 1-8 in a one-room school, Fargo #26, near the family farm until 1959. She married Richard Guilliams of Falls City, Nebraska in 1959 at Immaculate Conception Catholic Church in Rulo, Nebraska. After the wedding, they moved to Corpus Christi, Texas, where Shirley taught Business English at the South Texas Commercial College. After the birth of a son, Eric Guilliams the family moved to Alvin, Texas in March 1962.  She returned to work in 1975 after the birth of son David and daughter Anne. Shirley worked 41 years within the Diocese of Galveston/Houston at the Parishes of St. Helen's in Pearland, Texas and later at St. Francis de Sales in Houston, Texas.
She was preceded in death by her parents, Floyd Carl and Josephine Marie O'Connell Dorste and sister, Phyllis Jean Dorste Reimer. 
Shirley is survived by Richard her husband of 60 years, sons, Eric and David and his wife Mary; daughter Anne Byrne and her husband Robert; grandchildren, Patrick, Joseph, and Caitlin Guilliams, and Dashiel and Georgia Byrne; brother William and his wife Dorothy Dorste, and numerous nieces and nephews and cherished friends.
Due to health concerns at the present time, a memorial service will be held on Saturday, July 11, 2020, at 10:30 A.M. at Immaculate Catholic Church in Rulo, Nebraska.
In lieu of flowers, the family requests donations to the Cancer Center at MD Anderson at www.mdanderson.org. Condolences may be sent to the Guilliams family in care of Jeter Memorial Funeral Home at www.jeterfuneralhome .com