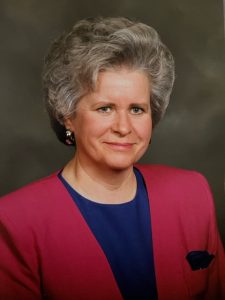 Margie Ann (Wall) Lewis was born April 8, 1939 in Cumberland Furnace, Tennessee to Allen Martin and Ruby Eileen (Batey) Wall. Margie grew up in Dickson County and graduated from Charlotte High School in 1956. After graduation she moved to Nashville to work and got a job at the First American National Bank in downtown Nashville. While there she lived at the Central Church of Christ Girls Home where she met several lifelong friends. On July 29, 1961 Margie was united in marriage to Gary W. Lewis of Humboldt, NE. To this union three children were born: Guy Martin, Melodie and Jaymie. After briefly living in Utah and Nashville, the family made their home in Humboldt. 
Margie dedicated her life to being a wife and mother, and later a grandmother. She was almost always singing as she went about her day. She was a self-taught cook who loved to bake, perfecting recipes to share with her family, neighbors and friends, as well as anyone else she thought might need to eat. She loved to garden and to study about nutrition and health. She volunteered in the community through several organizations including Girl Scouts, Band Parents, Meals on Wheels and Colonial Acres. Margie prioritized her relationship with Christ and was a lifelong member of the Church of Christ, attending the South Auburn Church. Despite being a Nebraskan for 55 years, her heart still belonged to Tennessee, and she cherished all the opportunities she had to visit there and spend time with her large extended family. 
Margie passed away on Wednesday, December 28, 2022 at Colonial Acres Nursing Home in Humboldt, with her family at her side. 
She was preceded in death by her parents, husband Gary Wayne Lewis, granddaughter Lynsay Jo Lewis, grandson Samuel Wayne Nolte, brothers Bobby Wall and James Wall, nephews Tony Wall, Doug Wall, Mark Wall and nieces Kim Wall and Tina Wall Resha. 
Margie is survived by her son Guy Lewis and wife Deb of Humboldt, NE; daughters: Melodie Whitaker and husband Phil of Louisville, KY; Jaymie Nolte of La Crescenta, CA; grandchildren: Alexis Stallbaumer (Curtis), Lance Lewis, Sophia and Isabella Nolte, Ava and Zackary Whitaker; great-grandson Sutton Stallbaumer; brothers Ray Wall (Mary), Mike Wall (Connie), Glen Wall (Jeannie) and Earl Wall, all of Nashville, TN; sisters-in-law Bonnie Mehlin of Fremont, NE and Betty Whitfield of Bellevue, NE, and many other nieces, nephews, cousins, relatives and friends.
Funeral Services will be held at 10:30 a.m. on Thursday, January 5, 2023, at the Christian Church in Humboldt, Nebraska with Pastor Danny Jaekel officiating.
Visitation will be from 9 a.m.-8 p.m. on Wednesday, January 4, 2023, at the Wherry Mortuary, 207 N. Nemaha Street in Humboldt. Family will greet friends from 6-8 p.m. at the mortuary.
Interment will be at 1:30 p.m. on Thursday, January 5, 2023, at the Prairie Union Cemetery in rural Shubert, Nebraska.
Memorial contributions are suggested to the family with a later designation.
 Condolences can be shared online at www.wherrymortuary.com. Services entrusted to Wherry Mortuary-207 Nemaha St-Humboldt, NE 68376 (402) 862-2915