Forrest Robert "Bob" Johansen, Sr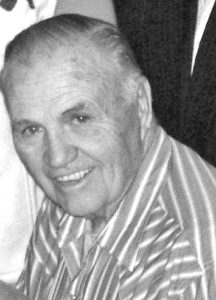 Forrest Robert "Bob" Johansen, Sr., 90, of rural Robinson, KS, passed away January 24, 2020, at the Hiawatha Community Hospital, Hiawatha, KS.  
He was born December 30, 1929, to Forrest Aaron and Ruth Rosella (Metzger) Johansen at Falls City, Nebraska.  
He married Margaret Darlene Greene, October 16, 1948.  This marriage was blessed with five children:  Bobby, Terry, Marlin, Kelly and Ruth Anne.  
He graduated from Reserve High School in 1947 and attended Highland Junior College.  
Bob is predeceased by his parents, three brothers, two sisters, two sons, and one grandson.  Survivors include his wife Darlene; sons, Robert "Bobby" (Nance) Johansen Jr., Marlin (Nancy) Johansen; daughter, Ruth Anne (Steve) Prieb; 19 grandchildren; 30 great-grandchildren.  
Family Visitation:  6-7:30 Friday evening at the Christian Center, 519 N First St, Hiawatha.
Services:  10:30 Saturday, February 1, also at the Christian Center.
Memorials: Robert Johansen Memorial Fund c/o Chapel Oaks Funeral Home, Hiawatha.