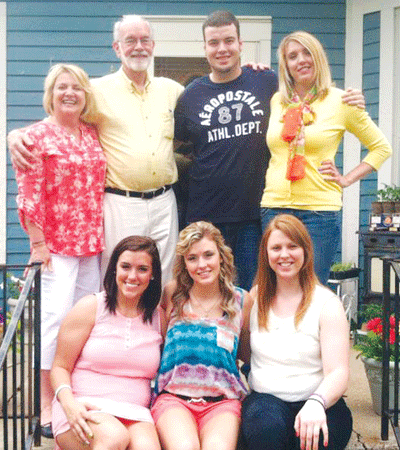 Many would agree that the Lord works in mysterious ways, but who knew He was a fan of Cracker Barrel?
That appears to be the case, after their Lincoln location on North 27th near the Interstate-80 interchange provided the setting for a fateful encounter between two customers and their server.
Abigail Sailors, a Falls City native and the server in question, had just finished the lunch rush last Thursday when shortly after 1 p.m. a hostess informed her she had another table.
The 18-year-old, who got her start as a waitress at A&G in Falls City, approached the two gentlemen and greeted them like any other table, not knowing that her time spent with these two strangers over the next hour would potentially change her life.
"They didn't seem strange or anything," Sailors said with a laugh. "They started joking around with me right away and one said, 'the hostess told us you are a really happy person. Why are you so happy?'"
At first she was hesitant.
"I wasn't going to tell them anything," she said, adding almost matter-of-factly, "I mean, they were strangers. I just told them I'm thankful for life and blessed with a lot of things."
Sailors, who recently finished the first semester of her freshman year at Trinity Bible College in Ellendale, N.D., delivered their drinks, then returned a few minutes later to take their orders and the curious customers inquired some more. "This is going to be an interesting table," she said to them, to which they laughed.
She took their orders and was able to hedge them off, for the most part, as they fired questions at her while she cleaned her section.
"I wasn't too busy, so I was able to talk to them a lot," described Sailors. "They were trying to guess things about me while they waited for their meals."
She delivered their meals and as the men ate, she told them about school and how she was studying psychology and youth ministry and a member of the Lady Lions basketball team. She also told them why she chose her course of study and her plans after college.
"I told them I wanted to help children from abusive homes because that's where my heart is," Sailors said. "Then one of them asked me if I was going back in a couple weeks and I kind of told them my situation."  
She informed them that she was paying her own way through school and was taking the second semester off to work and save money, so she could return in the fall.
Earlier, one of the men mentioned having been to Ellendale, which surprised her because the town is relatively small and not exactly on the beaten path. She asked him how he knew about it and he told her he traveled a lot and had made a stop there once.
Sailors grew more comfortable with the two men and eventually felt safe enough to tell them her story, one of tragedy but ultimately one of triumph.  
The youngest of five, Abigail told them about her sisters, Shelby being the oldest, Madison and Sydnie, and her older brother and the middle child, Josh.
Their lives changed forever in a single moment on Sept. 25, 1995 when their parents crashed their van during a trip to St. Joseph, Mo. The two lived, but their mother, Pam, suffered a severe head injury and never fully recovered. The driver of the vehicle and father to Abigail, Sydnie and Josh, was not seriously injured, but was determined not fit to raise the five children, who at the time were nine (Shelby), four, two-and-a-half, two and seven months old.
Abigail and her siblings were split up between three different homes in the few months immediately following the accident. In January of 1996, the siblings were back together in the same foster home and it remained that way for the next nine years, all of which were marred with child abuse.
The foster father was arrested during the summer of 2004 and remains in prison to this day.
In March of 2005, Abigail, Sydnie and Josh went to live with their father. Horribly, the cruelty continued at their dad's house and in January of 2006 he was arrested for abuse.
On Friday, Jan. 13, 2006, John and Susi Sailors, who had already fostered Madison after they were split up in 2005, took in the three with open arms.
Abigail told the men how John and Susi raised them and treated them like their own children, no questions asked.
"John and Susi already had five kids they raised and didn't have finances, probably, to take all five of us but they did it because they felt it was right."            
Abigail, who eventually took their last name, told the Lincoln Journal-Star's Peter Salter that she didn't know how she would have turned out if she didn't have them in her life.
"They shaped the person I am today," she said.
Abigail's story put the two grown men in tears and it came full circle just a few minutes later when one of the gentleman divulged a detail too significant to be coincidental.
"I'm actually a graduate from Trinity College," the man told her,  "and this is what I'm going to do for you."
He then wrote a check for $5,000 to Trinity Bible College for Abigail's tuition, wrote a second check for $1,000 for her to use however she needed, then topped it off with a $100 tip, which she split with another server. 
"It was insane," she said. "Just thinking about it still brings a lot of tears to my eyes. The thing that got me was he told me to thank God and not them because it was all God's doing. They didn't take any credit and  that just blew me away. He's a stranger, yeah, but he believes in God and believes in my future and wants me to move forward. This makes all of that possible."
The money will get her through her sophomore year at Trinity, which Abigail said was the only school she was really ever interested in attending.
"I heard about the school at a church camp when I was 15 and always felt that's where God wanted me to be."
She said she would keep in touch with the two men, but decided to keep their names anonymous.
Reported first by KLKN-TV Channel 8 in Lincoln and the Journal-Star, the story has  continued to grow legs nationally. Fox News, the Chicago Tribune, the San Francisco Chronicle and the Huffington Post, to name a few, all carried the story.
"At first I wasn't really open with them because I don't want anybody to feel bad for me or anything," she said. "It's just wild, everything about it. It was like a divine appointment or something. I'm just extremely blessed and so thankful to God and to all the people in my life."