Malone sets new triple jump record, Irish boys champs at Pioneer Indoor
  Falls City Sacred Heart junior Austin Malone wasted little time setting the tone for his 2014 track season.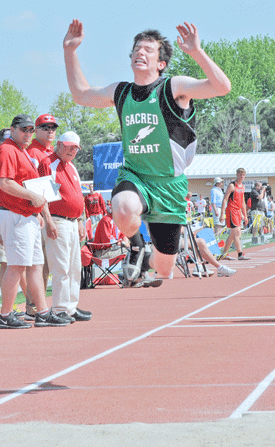 FC Sacred Heart, pictured above at the 2013 State Track Meet at Burke High in Omaha, broke a 40-year-old school record in the triple Jump last Thursday at the Pioneer Conference Indoor Meet at Doane College in Crete. Malone jumped 44 feet, 7 1/4 inches and surpassed Tim Hoy's 1974 leap of 44 feet, 3 inches. Journal File Photo.
Malone, a 2013 state qualifier and district champion, leaped 44 feet, seven and one-quarter inches in the triple jump last Thursday at the Pioneer Conference Indoor Meet at Doane College in Crete and eclipsed a 40-year-old school record set by Tim Hoy, who jumped 44 feet, 3 inches in 1974.
The record-setting jump captured gold for Malone, who also finished third in the 400-meter dash and, along with seniors Yianni Haralabidis and Chaz Dunn and sophomore Henry Arnold, earned a first-place finish in the 1600-meter relay.
The Irish boys racked up 129 points and brought home first place in the team standings, as they recorded six first-place finishes and 19 medals in the 14 events.
Haralabidis and junior Sawyer Kean went 1-2 in the 60-meter dash and first and third, respectively, in the 200. Arnold captured gold in the 400, while Dunn (800) and senior Colin Niemeyer (60 hurdles) recorded third-place finishes in the 800 and 60-meter hurdle events, respectively.
FCSH junior Zavan Kirkendall finished fifth in the 60 hurdles, while sophomore Emerson Keithley was fifth in the 3200-meter run. The Irish's 4-by-800-meter relay team of Keith Salimo, Noah Keller, Emerson Keithley and Cameron Barker finished third.
Kean jumped 19 feet, 8 inches to finish first in the long jump, while Dunn was second with a jump of 19 feet, 3 inches. Arnold finished right behind Malone in the triple jump and tied fourth in the high hump (5-06). Kean (4th, pole vault) and senior Jarod Fiegener rounded out the Irish medalists in the field events.
The Lady Irish finished a distant second with 59 points, as Freeman captured the girls' team crown with 122 points.
FCSH sophomore Maggie Goltz, a state qualifier a year ago, finished first in the triple jump with a distance of 33 feet, 6 inches. Goltz added a fourth-place finish in the long jump. Junior Elizabeth Magdanz was runner-up in the pole vault with a height of 7 feet, 6 inches, while freshman Jade Hill finished third in the 800.
Sophomore Libby Dunn finished fourth for the Lady Irish with a time of 6:39 in the 1600-meter run. Senior Kathryn Bieker took fifth in the 3200 (14:57.2) and senior Rachel Parrish was sixth in both the 60-meter hurdles and  high jump events. FCSH's 1600-meter relay team of Parrish, Hill, Bieker and Elizabeth Magdanz finished fourth, while the 3200 relay team of  Hill, Elizabeth Magdanz, Dunn and Bieker finished sixth.
Humboldt-TR-S' boys finished tied for sixth with Wymore Southern with 22 1/2 points and individually were ledby Ben Railsback and Jacob Railsback, who finished third the pole vault and high jump. Nolan Schafer was sixth in both the high jump and long jump, while Logan Bredemeier finished fifth in the 800, Will Drake finished sixth in the 200 and Jacob Railsback took home sixth in the pole vault.
Whitney Ramsey had the best finish, individually, for the Lady Titans, who finished with nine points  and in ninth place. Ramsey pole vaulted seven feet to finish fourth, while Logan Standerford finished fifth in the shot put and Laura Stalder added a fifth-place finish in the 400. Bailey Kuhlmann was sixth in the pole vault.
The Irish track teams travel to the Auburn Quad this afternoon at 4, while HTRS competes this afternoon at the Falls City Invitational which begins at 4.