Irish repeat as Pioneer Conference champs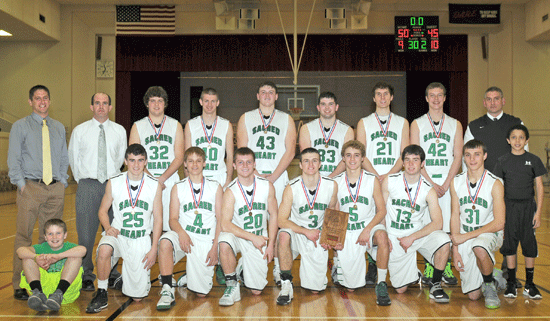 Defense and rebounding were the two main points-of-focus levied down from Falls City Sacred Heart Head Coach Doug Goltz to his Class D-2 top-ranked Irish before last week's Pioneer Conference tournament, especially after Old Man Winter condensed the normal six-day stretch of games down to three.
The Irish players took note and capped off a 3-0 week Saturday with a 50-45 victory over D-1 No. 5 Nebraska City Lourdes in the tournament championship game at Prichard Auditorium.
"We really preached that we needed to play good defense and rebound well in the tournament," said Goltz, whose team improved to 19-2 overall and won the school's 10th boys Pioneer Conference tournament title. "Three games in three nights, you never know if tired legs might affect shooting and your defense. Defense needed to be there each game and rebounding is a big part of playing good defense."
The Irish held a significant edge on the glass Saturday, outrebounding the Knights 34 to 19, including a 12-to-5 advantage on the offensive glass. Four Irish players finished with at least six rebounds – led by senior Chaz Dunn's nine – and those same four each pulled down a minimum of two offensive rebounds.
A highly contested game throughout, the second quarter saw five lead changes and two ties before the Irish went into the lockers with a 23-21 halftime lead.
Dunn started the scoring in the second half with a three-pointer, then junior Austin Malone scored his first points of the game on a tough left-handed layup to break a 26-26 tie. Two more points from Dunn, followed by an offensive rebound  and put-back from freshman Bryant Jorn as time expired to finish off a 6-0 FCSH run to end the quarter.
Lourdes' Marco Fabietti drained a three-pointer to cap off a quick 7-0 spurt and cut the lead to three, 36-33, with roughly four minutes to play, but that would be as close as the Knights would get, as FCSH took care of the basketball down the stretch and converted their free throws.
"We talked a lot about rebounding and limiting their second chances," Goltz said, "but I thought a big thing for us was when Lourdes made a run, we answered their runs."
FCSH, which led 11-6, 23-21 and 32-26 at the quarter breaks, never trailed for more than 32 seconds in the contest,
Dunn had one of his better all-around games Saturday, finishing with 19 points on 7-of-11 shooting from the floor, including 2-for-3 from downtown. Dunn dished out six assists and committed no turnovers to go along with the above-mentioned nine rebounds.
"He had a solid game in a big game," Goltz said of his senior point guard. "We needed him to play well, as NCL has quality guards too.
"Everyone who played contributed in some way or another," Goltz added, noting senior Colin Niemeyer and junior Austin Malone, who finished with 12 points and eight points, respectively. Niemeyer highlighted a clutch night at the free-throw line by FCSH, as he connected on all six of his attempts and all four in the final eight minutes. FCSH finished 6-for-7 at the stripe in the fourth quarter and 11 for 13 overall. Malone, who had a quiet first half against the Knights, scored all eight of his points in the second half, including six down the stretch.
Friday the Irish raced out to a 30-13 halftime lead over Lewiston, en route to a 58-34 victory. Dunn led the way with 13 points and four assists, while Jorn and senior Matt Goltz added 11 points and 10 points, respectively. Goltz added 11 rebounds to finish with his fifth double-double of the season.
FCSH were 69-38 winners over Johnson-Brock Thursday in the tourney opener at Johnson., Tuesday's snowstorm pushed the Irish's first round game back two days, but they didn't feel the affects of the week lay-off. FCSH drained four three-pointers and shot nearly 55-percent from two-point range in the rout. Goltz led the way with a double-double, finishing with 14 points and 13 boards, while Dunn tallied 10 points, eight assists and seven boards.
The Irish will need to curb their celebration quickly though, as a tough North Andrew, Missouri team visits Prichard tonight. The Cardinals are 16-4 overall. Tonight's varsity boys game will tip-off at approximately 7:30. Friday the Irish host Palmyra at 7:30 and then close the regular season on Feb. 22 with a rematch against Lourdes at Nebraska City.   
Scoring vs. NCL
FCSH – Niemeyer 12, Dunn 19, Malone 8, Jorn 4, Goltz 5, Fiegener 2.
NCL – Fabietti 8, Vasa 8, Miller 15, Gude 4, Gress 5, DeFreece 3, Anthens 2.
Scoring vs. Lewiston
FCSH – Niemeyer 4, Dunn 13, Malone 7, Jorn 11, Kean 2, Goltz 10, Scheitel 8, Fiegener 3.
Lewiston – Singleton 3, Albers 4, Nouzovsky 4, Barr 8, Speckmann 9, Anderson 6.
Scoring vs. J-B
FCSH – Niemeyer 8, Witt 3, Dunn 10, Malone 9, Jorn 9, Goltz 14, Keller 2, Scheitel 6, Fiegener 6, Strasheim 2.
J-B – Ty. Ebeler 5, Neufeld 10, Ta. Ebeler 5, Stahl 11, Koperski 4, Clark 3.