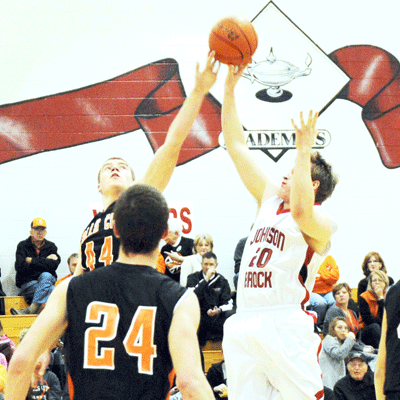 Falls City, freshly minted A ranked team in Class C1 by both the Lincoln Journal Star (No. 9) and Omaha World Herald (No. 8),   proceeded with a "business as usual" approach in a pair of road wins last week, defeating Marysville, KS, 76-49, Tuesday night, then followed it up with a 66-37 beat down of over-matched Johnson-Brock Thursday night.
Tuesday's win over the Bulldogs proved most impressive, as FC added to a seven-point halftime lead by posting 26 points in the third, followed by a 19-8 advantage in the fourth. FC, now 11-1, shot nearly 70 percent from the floor (30-44), held a 23-11 advantage on the glass and turned it over only 10 times, while also forcing 20 turnovers.
"We came out and really got after them," said FCHS Head Coach Don Hogue. "They hadn't played since Dec. 21, so we thought they might be a little rusty and we weren't sure how their legs would be. We attacked them off the dribble and had a lot of easy layups, especially in the third quarter."
Hogue said his team shared the ball well and "by far" played their best 32 minutes of the season, which led to five players scoring in double figures.  
FC junior Jack Hartman shot 7-for-9 from the floor and hit 4-of-5 FT's to lead all scorers with 18 points and five rebounds, while fellow junior Weston Witt knocked down all three of his long-range attempts and 6-of-10 shots overall on his way to 16 points. Senior Mitchell Harling was 6-for-7 from the floor and 4-for-4 at the stripe en route to 13 points, while senior Ryan Mount and junior Jordy Stoller each scored 10.
Harling paced four Tigers scoring in double digits Thursday in Johnson with 18 points, including a 4-for-7 effort from downtown. Stoller added 13 points (2-3 3-point shots), Hogue scored 12 on 6-of-9 FG's and Hartman scored 11 to go with nine boards and four assists – both team highs.
FC hosts Tri County (4-6) tonight at 7 in what will be the first game played at Prichard Auditorium by the Tigers since a February 2001 game against Ashland-Greenwood, one in which this once-was athlete and current sports reporter tallied 10 points and six assists in a 63-56 loss to Ashland-Greenwood.
Friday the Tigers are off to Maryville, MO for a 7:30 p.m. game, followed by a quick turnaround Saturday afternoon at 3:30  against visitors Elmwood-Murdock.
Scoring vs. J-B
    FC – Stoller 13, Harling 18, Hartman 11, Witt 6, Jordening 2, Hogue 12, Stutheit 4.
Scoring vs. Marysville
    FC – Stoller 10, Schawang 1, DiGiacomo 4, Harling 13, Hartman 18, Mount 10, Witt 16, Jordening 4.