FCHS' Buchholz passes Poppe for single-season strikeout mark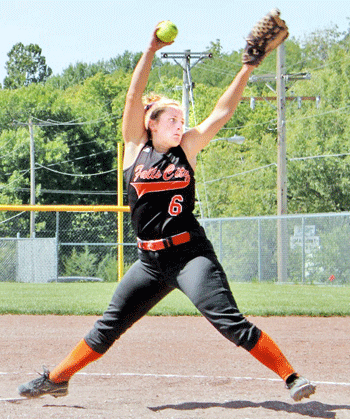 THE "K" QUEEN. Fitting that FCHS senior pitcher Kirstyn Buchholz first name starts with the letter, "K", the letter abbreviation for one strikeout. Buchholz fanned 15 opposing batters Saturday at the Plattsmouth Invite to put her at 113 K's on the season and in doing so, passed Claire Poppe's single-season record of 108 strikeouts set last year.
 Falls City High senior  Kirstyn Buchholz's record-breaking performance highlighted a weekend in which the Lady Tigers fought their way to a third-place finish at the Plattsmouth Invitational.
Buchholz struck out a total of fifteen batters in the three games to break Claire Poppe's single-season strikeout record of 108 from last year. Buchholz, now with 113 K's, reached the plateau in 126 innings pitched this season, while Poppe pitched 154 a season ago.
"Kirstyn told me at the beginning of the season that she wanted to break the strikekout record," Falls City High head coach Jason Bredemeier said. "She had a goal and she was determined to achieve it. I am really proud of all the hard work she has put into her pitching. She's developed into a power pitcher on the mound and has earned that record."
Buchholz will have plenty of opportunities to add to the record, as well. The Lady Tigers have five games remaining in the regular season, the district tournament and potentially the state tourney. With an average of 1.12 strikeouts per inning, Buchholz could push the single-season mark to well over 150.
FC defeated Conestoga 5-1 in the first round, then fell 8-4 to eventual champ Wavery, but bounced back with a 5-0 victory over Omaha Duchesne in the third place game and sit at 13-9 on the season.  
Offensively, the Lady Tigers had good balance and were led by different players each game. Senior Payshince Dawkins finished 2-for-2 with an RBI in the win over Conestoga. Seniors Allyson Scholl and Brooke Scheitel, junior Sydney Armbruster and freshman Tayten O'Brien also contributed one RBI against Conestoga.
In the loss to Waverly, FC rallied for three runs in the bottom of the fifth on Sydney Armbruster's single to left that scored O'Brien and senior Haley Cochran to cut the lead to 6-4. Waverly added two runs in the top of the seventh, but FC was retired in order in the bottom half.
O'Brien had another solid game in the win over Duchesne, finishing 3-for-4 at the plate. Fellow freshman Morgan Bletscher was 2-for-4, as was Scholl. Buchholz drove in two runs, while Dawkins and Sydney Armbruster finished with one RBI apiece.
The Lady Tigers hosted the always-competitive St. Joe Lafayette (MO) last night and then travel to Freeman Thursday night.