FCMS 8th grader to play French Horn for All-State Band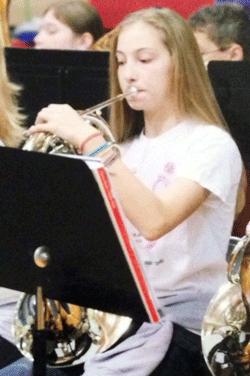 At the beginning of this 2013-2014 school year, Tavia Bruxcellas started working on the audition material with her French Horn for the 2014 8th Grade All-State Band.
This elite group is selected to fill a set instrumentation of 82 current 8th grade band students. The audition material is selected etudes and a chromatic scale. The student is to turn in a copy of the selections by Oct. 19, 2013 on a CD.
Out of the 359 students who applied in Nebraska, eight are chosen for French Horn. Falls City Middle School student Tavia Bruxcellas did not just qualify, but received second chair. She now will receive the music for that day and practice until Jan. 18, 2014. Tavia will travel to the University of Nebraska-Kearney, Fine Arts Building, and works with Conductor/Clinician Tony Falcone, UNL Associate Director of Bands, to prepare with the other 82 students for a concert that same afternoon at 4 p.m.
In addition to thanking Mr. Stutheit for his support, Tavia would like to thank Mr. Johnson, of Hiawatha, KS, and Mr. Johnson and Mrs. Prendes, both of Elkhorn, for their numerous hours of instruction and never-ending encouragement.