New Regent carries positive message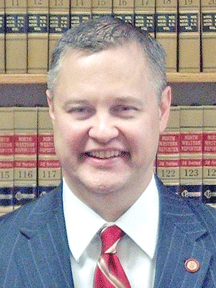 Regent Rob Schafer, appointed by Gov. Dave Heineman in March, has a positive, optimistic view of a University of Nebraska system that is "turning out good graduates" and helping to "reverse the brain drain" in the state.
Schafer, a Beatrice attorney, wears many hats. In addition to his role as managing partner at Carlson, Schafer & Davis law firm, he is a member of the Nebraska Air National Guard, serving as a Lieutenant Colonel and Staff Judge Advocate for the 155th Air Refueling Wing (he became a Guard member 28 years ago in Company B).  He and his family own and operate a farm in Pawnee County, raising corn, soybeans and wheat.  The Schafers own cattle and he is a member and director of a swine operation in Iowa.  So Regent Schafer is fully invested in agriculture.  
"That helps me understand why agriculture is so important in Nebraska.  We need to pay attention and reinvest in agriculture."
Wife Andrea is a vice president at Pinnacle Bank. They are the parents of two daughters, Brooklyn, 7, and Addison, 4. Both parents are graduates of the University of Nebraska-Lincoln.
After Lavon Heidemann became Lieutenant Governor, the Board of Regents' District 5 seat became vacant. Schafer, who grew up in Pawnee County and graduated from Pawnee City High School, earned the governor's appointment on March 20.
"We function as a board of directors," said Schafer of his service on the Board of Regents.  "We advise the Presidents and Chancellors at the various institutions," which include UNL, UNK, UNO and UNMC.
Schafer is one of only two Regents with an agricultural background (Jim Pillen is the other). And that is important, said Schafer, who recently visited the Journal's office with his friend and local colleague, Attorney Mike Dunn.
"With the continued growth and development of the world's population," said Schafer, the University system needs to find ways for producers to cultivate the resources that will feed that population. One example of that research is the Daugherty Water for Food Institute, created in 2010 with a $50 million gift from the Robert G. Daugherty Charitable Fund.  The institute is working to develop solutions for the sustainable use of water for agriculture. The Rural Futures Institute is focused on revitalization of rural communities, not only in Nebraska, but beyond. The new veterinary diagnostic facility (Lincoln) is also focused on advancing agriculture in the state.
Schafer noted the difficult economic conditions, although Nebraska has done better than most states in weathering the storm. So, is a college degree still of value? He said the Regents believe it is. The average lifetime earnings for a bachelor's degree recipient are $2.3 million.  A high school grad can expect lifetime earnings of $1.3 million. In Nebraska, two-thirds of all jobs will soon require education beyond high school.  
"We believe NU provides a very high-quality education for a tremendous value," a release from the Regents notes.  Evidence of value is in the numbers.  UNL tuition, said Schafer, is 26% below the peer average (including Big Ten schools) and 10% below the national average for four-year public schools.  UNO is 24% below its peers, UNK 18% below.  At UNMC, rates are also below but vary by college.
On the University system campuses, enrollment is listed at 50,705, the highest in 20 years.  Administrators are actively working to increase those numbers.
Schafer, who also serves as a board member of the Nebraska Chamber of Commerce and is admitted to practice law in both Nebraska and Kansas, represents 16 counties in the state, including Richardson County.  He said one of three jobs in Nebraska is "tied to agriculture."  He reiterated the need for the University system to "keep investing and re-investing in agriculture programs."  
He said the system provides "quality education at an affordable price and an education that can lead to jobs – a good product."