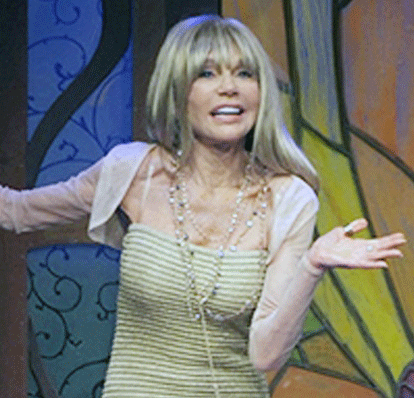 Photo by Mark Baltzley
Dyan Cannon – a name that is lost on so many.
Some may recall that she's that Lakers' fan with the amazing hair. Others my age may remember her from "Ally McBeal." Some may even remember her from "Heaven can Wait" or "Bob & Carol & Ted & Alice." However, most people know her from her turbulent marriage with actor Cary Grant.
Having read every single Cary Grant biography, this is where I was first introduced to Dyan Cannon. She was married to Cary Grant for three years and bore him his only child. She was also the first woman in the history of the Motion Picture Academy to be nominated for Oscars both in front of and behind the camera.
Dyan Cannon is a bit of a question mark to my generation. Until 2011 when she released her book "Dear Cary," I was a little scared to read it. Would she speak of him unfavorably? Would the image of Cary Grant finally be shattered? Many had never really understood their paring.  The elephant in the room is the 33-year age difference between them. Plus, the romantic dreamer in most of us wanted Cary Grant to marry Irene Dunn and live happily every after.
Dyan's book wove a tale of love and romance from the start. She fell for his charm (who wouldn't) and he fell for her youthful spunk. They were married for three years before they split.
Dyan and Cary continued to jointly raise their daughter Jennifer until his passing in 1986.
After reading this book I had newfound respect for Ms. Cannon. She had married and divorced the most beloved actor and man of all time. That's pressure nobody wants to know.
When my sister Cori heard that Ms. Cannon would be starring in a play in Overland Park, KS, she thought this would be the ideal birthday gift for me. So a few weeks after 30th birthday we made our way to Overland Park to The New Theatre's Saturday night showing of Ken Ludwig's play, "The Fox on the Fairway" starring Dyan Cannon.
"The Fox on The Fairway" is a comedic play written by Ken Ludwig in 2010, set against the backdrop of an annual golf tournament between two rival clubs. Jim Korinke played Bingham, the Quail Valley president who believes this year is his club's year to win. Playing the rival Crouching Squirrel president and token "bad guy" (Dickie) was Mark Robbins. The two men decide to place a $2 million wager on who will win this year's tournament. Dyan Cannon plays Dickie's ex-wife (Pamela), who is willing to help Bingham beat her ex-husband at all costs.
I am not a theatre reviewer and won't be able to really do this play any justice but, there are classic mishaps, a parental surprise and in the end, lots of love.
Each moment Ms. Cannon entered the stage, whispers rippled through the theater. Ms. Cannon who, at 76 sported some skin-bearing outfits that I wouldn't have been able to pull off on my best day at 17. Every single outfit complimented her mile high heels. I was so nervous she would fall. I forgot we were dealing with a pro here. She was amazing. It was all too easy for me to forget her age. My lord, if I can even wear heels at 40 I will celebrate, but heels and belly baring tops. That, my friends, deserves an award!
I don't think my eyes ever left her. As soon as she walked out onto the stage the atmosphere changed. It was electric. While it was difficult to depict a golf tournament on stage, I personally thing they nailed it. I loved the music, the set, the actors, the story, and the dinner.
Once the play was over it went from amazing to absolutely perfect. The cast bowed, we clapped and it was over. There Dyan Cannon stood alone on stage. What would she say, what would she do? First she thanked us for being a great audience and mentioned how much she really enjoyed Kansas City and its residents. Then it happened: A Cary Grant story.
As soon as she mentioned him the room fell silent. She then proceeded to tell the story of how she accompanied Cary Grant to Jamaica while he filmed "Father Goose." During one of his afternoons off they went to the beach. As Cary swam in the ocean, Dyan sat on the beach. Suddenly she heard him screaming in pain. She started to go in after him but he told her not to. He screamed as he made his way to the shore. His leg was aflame with spines of a Sea Urchin.
When they got inside the maid came running in and whispered to Dyan, "Only one cure for that mam, you got to make water on the sting." Dyan looked at her confused as to what she was hinting at. The maid then got to the point," You know, go to the bathroom on it" In shock, Dyan yelled, "I have to pee on his leg?"  
After she realized the maid was serious she told Cary to go into the bathroom because she knew how to fix it. She told him to put his leg in the tub. After some back and forth, Dyan dropped her pants and straddled his leg. She couldn't believe she was about to pee on the leg of the biggest movie star in the world. After a few tries and battles with "stage fright," she was able to do it and it worked.
Cary told her after, "I never thought I'd thank anyone for taking a pee on me, but right now it seems like about the nicest thing anybody's ever done for me, thank you." And that was the story about how she peed on Cary Grant.
She finished by speaking a bit about her book, Cary Grant, Saturday Night Live and Chevy Chase before she exited the stage.
Brian and I went in search of the stage door and waited to possibly meet her. The lead male actor walked out and asked if we were waiting for Dyan. I confessed that we were. He told us we could go on inside. We didn't argue, we went on in and stood by a door marked "Dressing Room."
The security guard started down the hall right for us and I knew we were cooked. He told us we could come on in a bit further to keep warm. Then we waited. My hands were shaking, and my mouth went dry. I was a wreck.
The door opened and there she was. All 75 lbs of her (mostly hair).  I asked her for photo. Brian took my phone and started snapping. I kept telling myself to calm down and not to pass out. Try as I might, I was a total crazy person. She had her two little Chihuahuas with her. As my sister and brother-in-law pet and talked to her about her dogs I sat and creepily smiled. I was too nervous to join the conversation.
The entire time this I was holding her book and a Sharpie. I was so nervous I didn't ask her to autograph it. We said our goodbyes and walked out the door. Meeting someone famous is scary. What happens if they are rude or brush you off? They could ruin your image of them in a matter of seconds. She didn't. She was sweet and patient with us.
Sunday morning I went right for my computer. I had to write everything down before I started to forget the little things. I published it on my little blog that only a handful of family and friends ever read.
Tuesday morning I received an email at work from a lovely man who works at The New Theatre. He had found my blog. My first instinct was to close the email and physically hide under my desk from it. I knew they were upset I had taken photos then posted them online. The gentleman said he had a Google alert set for The New Theatre and my blog popped up. He complimented my writing and said he thought it was funny and he shared it with the director of the play (Almost a southern belle, nearly fainted at this point). The director enjoyed it so much he printed it to share with others in his office. He also said he would like to give a copy to Dyan and would be happy to send me an autograph and an invitation to another show.
My blog is my favorite hobby. I love writing and write how I speak. I say things I would casually say to my family and close friends. I also only expect about 30 people to actually read it. That's when I started to go over things I had said to that the director, and possibly Ms. Cannon would read. Panic set in.
The gentleman and I exchanged a few emails as I received more and more traffic to this post. We set up a time to go down again on Sunday to see the show and meet Dyan. Knowing someone outside of my family enjoyed my writing was a rush. Knowing that Dyan Cannon was seeing it was scary and exciting.
After a weekend of rereading Dyan's book and researching her, we finally made it down to Overland Park for our second theatre experience. We walked in and were told by our fabulous waiter, Roman, that we were VIP's and he was going to make sure our experience was great. Our table had a large envelope addressed to me. I was trying really hard not to tear it open with the excitement of a 3-year-old on her birthday. I slowly opened it and pulled out a lovely head shot of Dyan Cannon that said  "Precious Nikki, you are a treasure and so generous with your thoughts. All My Love, Dyan." From then on I was beaming. Soon after a woman walked up and asked us if we wanted to move to a table along the stage.
Then it happened. Something I never saw coming……
Announcements were made. "Please turn off your phones, photos are not allowed,
And the part of Pamela will be played by Cathy Barnett because Dyan had been injured."
People who had heard the announcement started talking a bit louder, questioning if what they had heard was right.  It took everything I had to hold back my tears. I had been so excited to see her during and after the show.
I didn't have much time to mope because the music started and the curtain rose.  This time I was able to focus on the other actors and the story a bit more closely. I heard more of the jokes and got lost in the story. I had been scared that Ms. Barnett wouldn't be as good as Ms. Cannon. I was wrong. She wasn't better, and she wasn't worse. She was different. She brought something entirely different to the role that Dyan had perfected. She was really fantastic.
The main actor played by Jim Korinke was the star of the show this time. His timing was impeccable and his facial expressions were priceless. Matt Holzfeind shined in his role as Justin. His slapstick reminded our son Alex of "The Three Stooges." Everyone laughed so hard at his falls and wacky outfits. There was even a point in the play where he hit a doorframe and I know every single person in the place kind of bounced back and gasped in reaction to it.
Ashley Pankow played Louise and being able to see her expressions up close was fun. She is so expressive and just nailed her role. Mark Robbins in the role of Dickie managed to get the most laughs throughout the play. He was funny, yet played bad guy beautifully.
Seeing it this time up close and under different circumstances was awesome. Seeing it the first time was really wonderful, but seeing it the second time gave you the freedom to really catch all of the jokes and appreciate what these people were doing. They should all be so proud of the production they put on. I realized much more this time around how perfectly cast each single person was.
We have really fallen in love with The New Theatre. The food, atmosphere, staff and show. I really recommend you head down and see for yourself. It's perfect for a date night, family night, and anniversary or just for something different. It takes a lot for me to wear a dress but I promise you it was worth it. Also, find the stage door after the show. Who knows, you may be able to meet someone you admire. I never thought I would, but I did.  
Dyan was able to finally return to the stage last Friday.
If you have any questions you call the box office at (913) 649-7469. "The Fox On The Fairway" will run through Sunday, November 3rd.
Starting Nov. 6 is the Broadway hit, "Never Too Late," starring six-time Emmy nominee and star of Cheers, George Wendt. George plays a successful lumber yard owner who is king of his castle and whose life is going exactly the way he wants…until his wife comes back from a doctor appointment with some big news. For more information visit www.newtheatre.com