Tigers rush for 525 yards in rout of Lutheran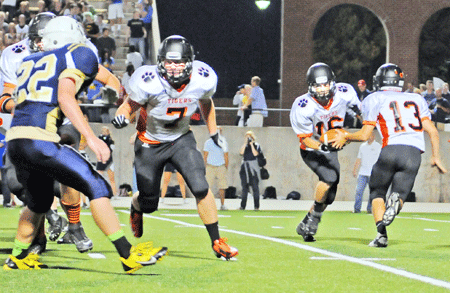 Falls City's Jordy Stoller (16) takes the handoff from Mitchell Harling (13) while Brenden Heckenlivley (7) gets out front with a lead block on an end-around late in the first quarter of the Tigers 58-21 win over Lincoln Lutheran Friday night in Lincoln. Stoller, who finished with 265 yards and three touchdowns on just 11 carries, took this handoff 63 yards before he was stopped at the LL 13-yard line. The long run set up FC's first score of the game, a 13-yard run by Harling three plays later. Photo by Jim Langan.
 Falls City High erupted for 32 second-quarter points on the road Friday night against Lincoln Lutheran and in doing so, turned a relatively tight ballgame into a 58-21 rout.
The Tigers, now 3-1, fell behind the Warriors 7-0 midway through the first quarter when Lutheran junior Josh Leymaster broke free on a trap play for a 46-yard touchdown run. Lutheran had some success with the trap play early, but adjusted and held Leymaster to 69 yards on five carries.
FC's answer came on their third possession when junior Jordy Stoller broke free on an end-around for 59 yards to set up senior Mitchell Harling's 13-yard touchdown run with 1:57 left in the first quarter. The two-point conversion failed and the Tigers trailed 7-6, but after struggling to get on track, the FC offense was about to unload on the Warriors to the tune of 525 yards rushing.
FC junior Brenden Heckenlively broke through the grasps of about four defenders to cap off a two play, 80-yard drive to put FC ahead 12-7 with 7:17 left in the half. Then, after a Stoller interception return to the Lutheran 5-yard line, Harling carried it in three plays later for the TD and gave FC a 20-7 lead.
Stoller added another FC score three-and-a-half minutes later, when he shook loose from 13 yards out to put FC ahead 26-7 with 2:18 left before half.
What happened next was almost unbelievable.
On the Warriors' first play from scrimmage, Elijah Kouma passed to Ben Schmeling on a jailbreak screen. Schmeling did the rest, as he made a couple Tiger defenders miss and outran everybody 65 yards to pay dirt. LL's Harrison Martin tacked on the extra point and pulled the Warriors to 26-14.
FC scored 32 second later when senior Ryan Mount found junior Jack Hartman for a 42-yard touchdown pass. Mount could not convert the two-point conversion and FC led 32-14 with less than 90 seconds left in the half.
Lutheran's Schmeling returned the opposing kickoff 88 yards for a touchdown and after the PAT, LL trailed 32-21 with 40 ticks left. FC would need only 28 of them to add another, and final, first-half touchdown, a 69-yard scamper by Stoller, who would score again in the third quarter and finished with 265 yards and three touchdowns on 11 carries. Stoller has quietly moved up to 26th all-time in single-season rushing with 613 yards on just 32 carries for an eye-popping 19.15 yards per carry. 
FC ratcheted things up on defense in the second half, allowing Lutheran to gain only 43 yards on 19 plays. Lutheran's second-half possessions went punt, fumble, punt, fumble and time expired on their final possession.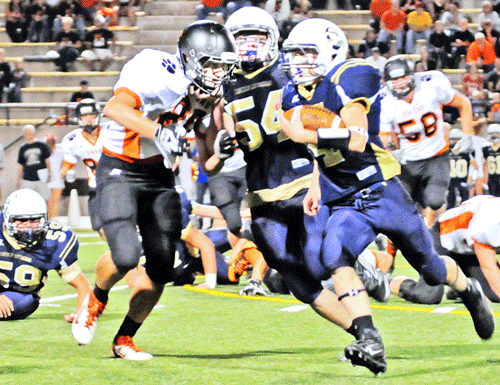 FC junior defensive end Lucas Kirkendall sheds a block by LL's Dylan Brockhaus (54) and makes a solo stop in the second quarter. Photo by Jim Langan.
Meanwhile, Harling and Heckenlively each added touchdowns in the third quarter. Harling finished with 14 carries for 155 yards and three TD's, while Heckenlivley carried seven times for 53 yards and a pair of scores. Mount carried six times for 32 yards and completed FC's only pass of the evening, the 42-yard score to Hartman in the second quarter.
Hartman led the Orange and Black, defensively, finishing with five solo stops and 11 total tackles, one sack and two-and-a-half tackles for loss. Hartman also recovered one of the two LL fumbles. Senior Chase Thompson finished with seven tackles, while Stoller recorded two interceptions to go along with four solo tackles. Harling and senior Derek McCann each finished with five tackles, which included three solo stops each. Junior Weston Witt forced one of the two fumbles.
The Tigers now turn their attention to 4-0 Syracuse, who visits Jug Brown Stadium Friday night. The Rockets enter as the Omaha World Herald's ninth ranked team in Class C1 and are one of only six unbeaten teams left in the class. The others being Boone Central/Newman Grove, Kearney Catholic, Cozad, Ashland-Greenwood, who defeated the Tigers 23-14 in the season-opener, and Lincoln Christian.
FC, led by Harling's 180 yards rushing, ruined the Rocket's homecoming last September in a 32-8 rout. Syracuse, who returned eight starters on offense and defense from the 4-4 team a year ago, are led by 6-foot-5, 280-pound junior Matt Clark. Clark was the Class C heavyweight champion in wrestling last February. Also back are Syracuse's three leading rushers from a season ago – senior Zach Keitkamp and juniors Ty Snider and Trey Mueller.
Heitkamp carried 33 times for 169 yards last year, but the difference in the game was FC finished plus-3 in the turnover battle. 2012 graduate Codie Witt finished with two interceptions, one of which he returned for a touchdown, and 16 tackles for the Tiger defense.
Will Syracuse stick to the ground behind the big offensive line or can the Tigers get out to an early lead like they did last year and force Syracuse to throw it? Two big areas of the game to watch for Friday night.
Kickoff between the Tigers and Rockets is set for 7 p.m.
                            Team Stats
                              FC           LL
First downs            21          17
Rushing              44-544    28-134
Rushing lost           19          20
Rushing net           525       114
Passing               1-6-0     8-18-2
Passing yds.          42         138
Fumbles lost           0           2
Punts-ave.           2-31.5    5-38.0
Punt Returns         2-33       0-0
Kickoffs-ave.      12-50.8    4-48.3
Kickoff Returns     1-10      10-108
Total return yds.     81         108
Penalties-yds.    14-143       5-44
Total offense         567        252
——
INDIVIDUAL STATS
Rushing
FC — Stoller, 11-265, 3 TD; Harling 14-155, 3 TD; B. Heckenlively, 7-53 2 TD; Mount 6-32; DiGiacomo, 2-8; Waggoner, 1-8l Schawang, 1-4; Bradly Rose, 1-3; Robinson, 1-0.
Passing
FC — Mount, 1-4-0, 42 yds., TD; Harling, 0-2-0.
Receiving
FC — Hartman, 1-42, TD.
Punting
FC — Mount, 2-63, 31.5 avg.
Punt Returns
FC — Harling, 2-33.
Kickoff Returns
FC — Hartman, 1-10.
Kickoffs
FC — Thompson, 12-610 yds., 50.8 avg.
Interceptions-Ret. yds.
FC — Stoller, 2-38.
Tackles
(unassisted-assisted)
FC — Hartman, 5-6; Thompson, 1-6; Stoller, 4-1; Harling, 3-2; McCann, 3-2; DiGiacomo, 2-2; Merz, 2-2; Kirkendall, 1-2; Adams, 0-3; Mount, 1-1; Witt, 1-1; Stutheit, 0-2; Bryan Rose, 1-0; Valentine, 1-0; Robinson, 0-1; Weinmann, 0-1; Zimmerman, 0-1.
Sacks-Yards Lost
FC — Hartman, 1-11.  
Tackles For Loss-Yards Lost
FC — Hartman, 2.5-14.5; Merz, 1-8; Mount, 0.5-0.5.