Seniors storm into district championship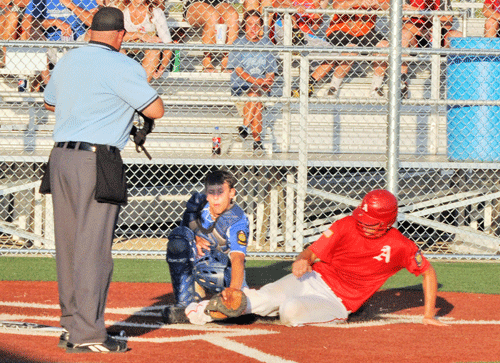 Falls City catcher Derek Bippes puts the tag on Auburn's Joe Nelson to complete a huge triple play in the top of the fourth inning during Monday's 5-1 FC victory. The Blue Storm led 2-1 to start the inning, but Auburn was threatening after a pair of leadoff singles. Unofficially, the triple play was scored 1-3-6-1. Photo by Jim Langan.
Three is a magic number and it was a theme in Falls City's 5-1 victory over Auburn Monday night.
FC's three-run fifth inning was the proverbial knockout punch, but it was a triple play turned by the Blue Storm in the top of the fourth that really took the wind out of Auburn's sails.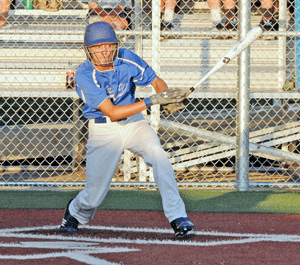 Chaz Dunn rips a single to right field in the bottom of the fifth inning. Dunn finished 3-3 with three runs scored. Photo by Jim Langan. 
With runners on first and second, Auburn's Caleb Nelson dribbled one back to FC's pitcher Logan Scheitel who threw it to first baseman Wade Witt for out number one. Witt then tossed it to shortstop Chaz Dunn at second base for the second out. Dunn then made a perfect throw to home plate where catcher Derek Bippes squeezed it and quickly put the tag down to get Joe Nelson and end the inning. 
Logan Scheitel started the rally in the bottom of the fifth with a leadoff single. After Austin Malone went down on strikes, three-straight singles from Tyler DiGiacomo, Chaz Dunn and Jordy Stoller turned into three runs.
Dunn finished 3-3 at the dish with three runs scored and one run batted in. Stoller went 2-3 with one RBI and Lane Scheitel also drove in a run.
Logan Scheitel went the distance and improved to 3-0 on the season. Scheitel scattered four hits over seven innings and struck out five and walked none to improve his ERA to 1.07.
The win marked FC's third in 10 days against Auburn and they finished the season series 4-2 against their neighbors to the north.
Things get serious in a hurry now though for the Blue Storm and a comparison to David versus Goliath might suffice, although David didn't have to defeat Goliath twice.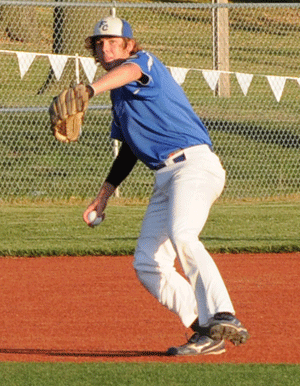 FC third baseman Chase Thompson sets himself to throw after flashing a little leather on a diving stop in the fifth inning. Photo by Jim Langan. 
FC (19-11) will need to defeat Hickman twice tonight to advance to the state tournament. No easy task considering top-seeded Hickman has outscored their three district opponents 30-0. Hickman's three starting pitchers – Payton Kinney, Preston Price and Byron Hood – each pitched complete game shutouts, have allowed four combined hits and fanned 26 batters.
Hood pitched a no-hitter Sunday in a 10-0 win over FC, striking out 12 and walking five in six innings.
Dunn went 3-3 at the plate Saturday and drove in three runs to lead FC passed Auburn 7-2.  He doubled in the fourth inning and singled in the first and sixth innings.
Bippes was 2-2 with a double, a walk and two runs scored, while Malone also scored twice.
Stoller got the win against Auburn Saturday thanks to nine strikeouts. Stoller allowed two earned runs on five hits and five walks over seven innings.
The Blue Storm, which improved to 3-1 in the district tournament last night, defeated Fairbury 7-2 in their opening round matchup. FC jumped in front early with three runs in the first and one in the second. DiGiacomo and Stoller led the attach with a pair of hits each. DiGiacomo drove in two, while Lane Scheitel, Chase Thompson and Wade Witt each finished with one RBI.
FC ace Lane Scheitel picked up the win against Fairbury and Reese Hogue recorded the save. Scheitel struck out seven, walked five and gave up four earned runs. Hogue pitched 1 1/3 innings and allowed no hits while striking out two.      
Tonight's championship is scheduled for 5:30 and if necessary, the second game will immediately follow.
District Game Summaries
Game 1
#1 Hickman    6
#6 Beatrice    0
Hickman catcher Jakson Reetz drove in all six runs as he went 4-4 with a homerun, a double and two singles. Shortstop Trey Hair was 3-4 with a pair of doubles and three runs scored. Payton Kinney pitched a complete game shutout for Hickman. Kinney struck out nine, allowed only two hits and just four Beatrice baserunners.
Game 2
#2 Auburn    9
#5 Nebraska City    8
(16 innings)
Auburn's Nick Behrends' leadoff walk to start the bottom of the 16th inning paid off, as he advanced to third on a single from Caleb Nelson and then crossed the plate with the game-winning run on Tyler Ebeler's sacrifice fly to centerfield. The run was Auburn's first since the fifth inning and the first of the game in 10 innings. It also put an end to a marathon game that lasted 4 hours and 32 minutes.
Game 4
Elimination Game
#6 Beatrice    7
#5 Nebraska City    5
Nebraska City scored three runs in the top of the sixth to grab a 5-3 lead, but Beatrice battled back with four of their own in the bottom of the inning and closer Drew Hausman earned the save to keep Beatrice alive. Alex Odom and Hart Mauch scored twice each for Beatrice. Nebraska City all-stater Trever Kreifel had a tough night at the dish, as he finished 0-2 and was beaned twice.
Game 5
#1 Hickman    14
#5 Fairbury    0
Preston Price pitched the second complete game shutout of the tournament by a Hickman pitcher in the win Saturday. Price surrendered a pair of hits, walked three and fanned five in his six innings of work. Jakson Reetz scored four runs and John Estudillo blasted a solo homerun in the top of the second and accounted for three runs.
Game 8
Elimination Game
#2 Auburn    3
#6 Beatrice    2
HTRS grad T.J. Standerford held Beatrice to three hits and struck out four in six innings of work,  as Auburn eliminated Beatrice.