WWII trunk finds way home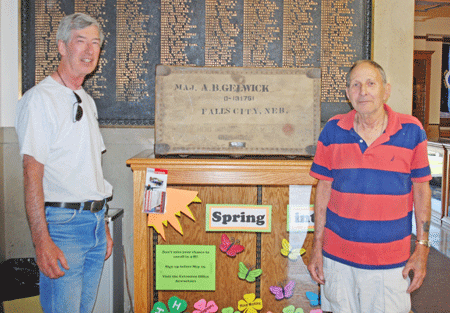 Mel Bowman of Lincoln had two missions when he visited Falls City last week. One was a bit more unusual than the other.
Bowman had been part of an Aug. 23, 2008, Veterans Ride that included a stopover in Falls City. The ride raised funds for POW and MIA efforts, as well as for homeless veterans in the Lincoln area. Bowman rode on behalf of the DAV.
While in Falls City last week, he presented a plaque commemorating the ride to Veterans Service Officer Ralph Huettner and Gary Jorn, representing the City of Falls City. The City "escorted us into town and out of town," said Bowman. "It was very impressive." And Huettner arranged for water to be available at the Veterans Park for the riders.
But the really unique presentation from Bowman was a World War II vintage trunk belonging to an Army Major from Falls City.
To read the full article please sign-up for or purchase the Journal's new e-edition.
The E-edition is FREE with your 1-year paid subscription to the print edition of the Falls City Journal. If you are not a subscriber to the print edition, you can purchase a 1-year subscription to the E-edition for only $25 via Pay Pal. A Pay Pal account is not needed to purchase and security is guaranteed.
The E-edition is an exact replica of the printed edition and will be available each and every Tuesday morning! Users will not need to wait on the Journal to arrive in the mail and can access all our weekly paper has to offer 24 hours a day, 7 days a week and a catalogue of E-editions dating back to January 6, 2011 are available.
Instructions for registering. (Please note the two options)
1.) Those with paid subscriptions to the print edition of the Journal please click HERE(http://www.fcjournal.net/index.php/component/content/article?id=1581). A new window will open and you will be redirected to the e-edition application. Please read the instructions at the top of the page before filling out the registration.
or
2.) For those looking to purchase the E-edition, on the left side of the home page click on the blue 'Create an account' link. You will be taken to a new page where you will need to fill out the necessary information. Select "E-edition" under the subscription plan and you will be directed to the Journal's PayPal account where you will pay for your subscription. After payment you will be directed back to the site to log-in and begin use.