Hillyard wins Omaha Publinks title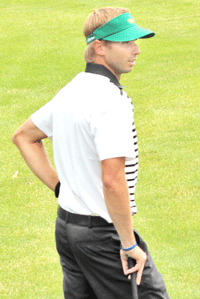 Pardon the cliché, but practice does in fact make perfect and Falls City native Michael Hillyard is a walking testimonial.
Hillyard, a 1999 graduate of Falls City High, capped off a memorable three-week run Sunday as he held off 39-year-old Randy Christiansen's late charge and secured a 2-and-1 victory for the Don Lee Championship Flight title in the 81st World-Herald Publinks match play golf tournament.
"I don't get to play a lot because I'm on the road for my job, but I practice and practice and practice," Hillyard told the Omaha World Herald's Stu Pospisil in an interview after the final match. "It really showed today all that work is paying off."
Hillyard, a first time participant in the Publinks with no prior match play experience, said he has been interested in playing in more solo tournaments.
"I wanted to challenge myself by playing in more individual events," Hillyard said in a phone interview Sunday night. "I saw the sign-up sheet at Eagle Hills and thought I would give it a try. I knew it would be competitive, but I've been practicing a lot working on my short game and it paid off.
Sunday's championship capped off a busy, but successful three-week stretch of golf for Hillyard. He and 38 other golfers battled Johnny Goodman golf course on June 1st to qualify for the match play portion of the Publinks tournament. Hillyard finished third and earned a five seed in the 32-man field.
He cruised past his first two opponents with a 6-and-5 victory over Ramesh Kotaru , then advanced past Casey Ballou 5-and-4 in the second round.
His third opponent was 16-year-old David Hansen, a Creighton Prep student who proved to be Hillyard's most formidable opponent. Hansen went the distance with Hillyard  – the only player to do so – but came up short and fell 1-down.
Hillyard went on to defeat Murray Kranbeer 3-and-2 Saturday in the semifinals to set up the final with Christiansen, who won the qualifier and was looking to become only the fifth player in 45 years to win Publinks after winning the match play qualifying tournament.
Hillyard lost the first hole of the day Sunday, but rebounded quickly and led 5-up after the morning round.
"Match play is a whole different ball game," Hillyard said. "You have to take it one hole at a time. If you have a bad hole, shake it off and try and win the next one."
Benson Park, which has hosted the finals annually since 1986, Hillyard described as, "Pretty short, tree-lined with really nice greens," presented more of a challenge to the shorter-hitting Christiansen, who was consistently 70 to 80 yards behind Hillyard after their tee shots.
"He hits the ball a ton," Christiansen told Pospisil after Sunday's match. "It can be a little intimidating, but you know you have to play your own game."    
He led 5-up with seven holes to play, then misfortune paired up with fatigue down the home stretch and as it usually goes in match play, the plot thickened.
"On hole 14, I smoked a drive down the left side, but the ball hit a manhole and kicked into the trees," Hillyard said, with the stress of the day and those final seven holes still in his voice. "I had to punch out and ended up bogeying it.
"I just tired a little down the stretch, but I was making putts all day and hit a lot of fairways to keep the pressure on him."
Hillyard made it official with a short par putt on  hole 17 and was presented with the Don Lee Championship Flight award by Dennis Lee, Don's son who presented the award on behalf of the Lee family. Don Lee was the Publinks director from 1946 to 1988.
Hillyard also received a $500 merchandise certificate, an engraved plaque and most importantly, the  No. 1 seed in next year's tournament.
Michael is the son of Mark and Angie Hillyard of Falls City and resides in Bellevue with his wife, Becky.  
"It was a good test for me and I came out on top. All my hard work paid off."