Services Friday for Kathy Bartek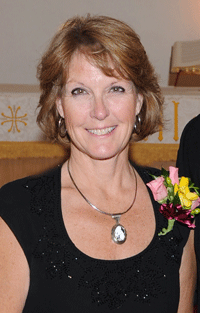 Longtime District 56 School Board Member and registered nurse Kathy Bartek, 55, of Falls City, passed away Sunday, June 23, 2013 after a 15-month battle with ALS, or Lou Gehrig's Disease.
Funeral services will be held at 10:30 a.m. Friday, June 28, 2013 at Christ Lutheran Church with Rev. Doug Woltemath officiating. Interment will be in Steele Cemetery.
The family will receive friends from 6-8 p.m. Thursday at Dorr and Clark Funeral Home, Falls City. In lieu of flowers the family prefer memorials to Family Choice. Earlier this spring, Kathy sold "Hero" T-Shirts to many people in the community in an effort to promote ALS Awareness. A final wish was that funeral goers wear their shirts to the services.  
Mrs. Bartek was elected to the District 56 School board in 1988 and was currently serving her seventh term, a total of more than 25 years of service. She was the President of the Nebraska Association of School Boards. In her 25 years on the school board she only missed three meetings, one was for the birth of her child, the second was because of a National School Board Meeting and the last one was because of her recent illness.
She was very proud to have helped pass the school bond to renovate Falls City High School. She earned the Nebraska Rural Community Schools Association 'School Board Member of the Year' Award in 2013 and in 2012 she received the Ann Mactier Leadership Award, and also the Robert J. Chab 'Community Service Award'.   
In lieu of flowers the family prefer memorials to Family Choice.