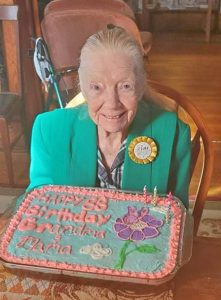 Lila Lorraine (Vice) Meyerkorth, 88, of rural Shubert, NE, passed away May 18, 2022 at Falls City, NE. She was born on November 18, 1933 to Glenn and Glady's (Ramsey) Vice in the family home.
Lila always enjoyed school. She was four years old when she started first grade at Hazel Dell School east of Shubert and graduated Shubert High School in 1950. After graduation she attended Peru State Teachers College.
She began teaching at District 94 and later at Shubert Grace Emmanuel School. She married Leonard LaVern "Mike" Meyerkorth in 1951 at her parents' home. To this union were born four children, Pam, Mike, Greg and Judith.When married the couple made their home on several different farms in the Stella and Shubert area. She enjoyed the years spent in the fields, driving grain trucks, working cattle, gardening, yard work and time as a homemaker. She worked in Auburn at New Beginnings as a tutor and counselor, for Families Unlimited as a coordinator and office manager for several years. She was manager of the Auburn In Home Health Care Store for 20 years and a member of Shubert American Legion Post Ladies Auxiliary.
Lila is survived by her children, Pam Pickard, Greg Meyerkorth and Judith Jeffrey all of Verdon, grandchildren, Teresa (Paul) Sidwell and Tricia (Jeremiah) Davis of Kansas City, MO; Lincoln (Tracy) Meyerkorth of Blaine, KS; Dorlan (Casie) Meyerkorth of Westmoreland, KS; Heather (Steven) Hurla all of Paxico, KS ;Cody Don Meyerkorth of Shubert; Seanna Jeffrey of Verdon, NE, great-grandchildren, Miriam Sidwell, Zeke, Levi, Zoë and Naomi Davis; Monty and Rayna Meyerkorth; August, Leland, Juliegh Meyerkorth; Allison, Sam, Maggie, James and Wren Hurla; Carter Don and Ensley Sue Meyerkorth; Nieces and Nephews. She was preceded in death by her, parents, husband, son, Mike, brothers, Glen Fay Vice, Donald Vice, Howard Vice, sisters, Wilda (Francis) Halligan, Darlene (Eddie) Bednorz, and Glady Mae (Leon) Lundy.
Her funeral will be held on Monday, May 23, 2022 at 10:00 AM at the Mount Zion Brick Church (east of Shubert) with Pastor Tim Boatright officiating. Burial will be in the Mount Zion Brick Church Cemetery
The family will receive friends on Sunday from 3-4:00 PM at Dorr and Clark Funeral Home.