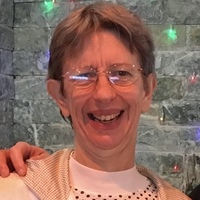 Sally Ann Roberts, 65, of St. Joseph, Mo., passed away Jan. 9, 2022 at a Highland, Kan. healthcare facility.
She was born in Kansas City, Mo. on Dec. 9, 1956 to Roy and Beverlee (Childers) Roberts.
Sally graduated from South Holt High School in 1975. She furthered her education at Platte-Gard Business College and Missouri Western State University in St. Joseph.
Sally spent many years living and working in Falls City, Neb. She worked at Community Medical Center. She was an active member of the Falls City Christian Church, where she served as Deacon, on committees, and as a part of the bell choir at Christmas.
After moving to St. Joseph she worked at Living Community of St. Joseph as a dietary aide until her health decline necessitated her reluctant retirement.
Preceding her in death were her parents; aunts and uncles, including special uncles Claude and Clyde Roberts, who, along with her paternal grandmother, Anna Roberts, helped raise Sally in their home; nephew-in-law, SSgt Kirby Weaver; and stepfather, Thomas "Bo" Fitzmaurice.
Survivors include brothers, Gary Daise of New Point, Mo., Jeff (Agnes) Daise of Forest City, Mo., Terry Roberts and his wife Phyllis Hasser of St. Louis, Mo., and Robb Roberts of Kansas City, Mo.; sisters, Penny Roberts of St. Joseph, Amy Miles of Mound City, Mo., Heidi (Rick) Knapp of Lenexa, Kan., and several beloved nieces and nephews, including Michelle (Brett) Halstead and their children, Emma, Savannah and Jameson, and Melanie Weaver (Johnny Johnston) and children Hunter, Khloe, and Ivy, and Raven (Brandon) Reynolds, all of whom she was blessed to be close to; and beloved sisters-in-law, Jennifer Roberts and Jeanie Daise.
Services were held on Monday, January 17, 2022 at 11:00 am at the Chamberlain Funeral Home in Oregon, Mo. Interment was at  Maple Grove Cemetery. Memorials may be directed to the ASPCA, as Sally's heart nearly shattered when she heard of any animal abuse or suffering. Online condolences may be left at www.chamberlainfuneral.com.