John Robert "Jack" Chittick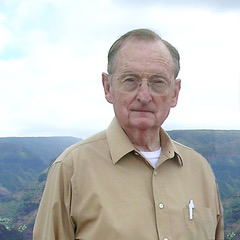 John Robert "Jack" Chittick, 83, of Falls City, died Thursday, July 9, 2020 at the Pawnee County Memorial Hospital.
Born September 8, 1936 to George Chittick and Helen (Peckham) Chittick in Pawnee City, Jack grew up on the family farm east of Pawnee, attending Sheridan Country School and Pawnee City High School, graduating in 1954. Jack was a distance runner who won first place in the mile at the State Track Meet his senior year in high school. Jack farmed and worked at the Pawnee elevator after high school graduation. In 1956, he enrolled at the University of Nebraska – Lincoln, where he earned a B.S. in Agricultural Economics with Business Option. After graduation from UNL, he worked for 3 1/2 years as manager at the Pawnee Farmers Cooperative. In May of 1964, Jack moved with his family to Bradshaw, Neb. after accepting a management position with the Bradshaw Farmers Cooperative. 
Jack and his family moved to Falls City, Neb. in May 1971 and with the encouragement of friend and mentor, Eldon Anderson, Jack began a successful 44-year career as a New York Life insurance agent. He earned the Chartered Life Underwriter and Chartered Financial Consultant professional designations from the American College of Financial Services. He not only took pride in his business, but also treasured the friends he made. Over the years, his insurance expertise and success qualified him as a consistent member of New York Life's Executive Council. He was also a lifetime member of the industry's Million Dollar Round Table. Jack developed an interest in flying early in his NYL career, so he took lessons and earned a pilot's license so he could fly to business appointments. He flew his family on several trips.  He was a member of the U.S. Army Reserve as well as the Nebraska Army National Guard, retiring with the rank of SFC after over 23 years of service.   
Jack was married to JoAnn Allen on September 12, 1954. They had three children: Rita, John, and Karen, all born in Pawnee City. They divorced in 1993. He married Anna Charlene (Marshall) Haverkamp on February 14, 1997 in McCook, Neb. Jack was a member of the First Baptist Church in Falls City from 1971-1992. He was a member of the Presbyterian Church in Pawnee City from 1997-2020. He served as a Sunday school teacher, deacon, elder, and held various church board positions.
Jack was a lifelong Nebraska Husker fan as well as a Royals baseball fan. He was an especially devoted fan of his grandchildren's activities including all sporting events, both high school and collegiate, piano recitals, Christmas programs, and more. He spent many happy hours in the bleachers keeping stats during grandchildren's basketball and volleyball games, and was very proud of all of their accomplishments.
Jack is preceded in death by his parents. 
He is survived by his wife, Charlene, Falls City; a brother, Jim (Virginia) Chittick, Pawnee City, and a sister, Helen Neel, Bartlesville, Oklahoma; three children: Rita Rumbaugh, York; John Chittick, Jr., Falls City; and Karen Chittick, Lincoln; eight grandchildren: Steven (Shelby) Rumbaugh, Falls City; Matthew Rumbaugh, Lincoln; and Michael Rumbaugh, Hickman; Rachel Groothuis (Ryan Tateishi), McMinnville, Oregon; Eliza (Mike) Henderson, Lincoln; Ashley (Brennan) Prahler, Leawood, Kansas; and Sarah Groothuis (Jasmit Singh), Jersey City, New Jersey; nieces and nephews. Great-grandchildren include: Courtney and Carter Rumbaugh; Myla and Lennix Rumbaugh; Atlee Rumbaugh; Grace and Graeme Henderson; and Emi Tateishi.
Funeral services will be held Monday, July 20 at 10 a.m. at First United Presbyterian Church, Pawnee City.  Officiating Reverend Duane Westing. Due to COVID-19 masks and social distancing is required during the church service. Visitation on Sunday, July 19, noon-8 p.m. with family greeting friends from 2-4 p.m. at Wherry Mortuary, 919 G Street, Pawnee City, Nebraska. Interment at the Pawnee City Cemetery.  Memorials suggested to the Alzheimer's Association or to Pawnee County Memorial Hospital.   If unable to attend the service you can log on to Wherry Mortuary/Wherry Monument on Facebook and watch it live stream.