Irish hoping third time's their 'lucky' charm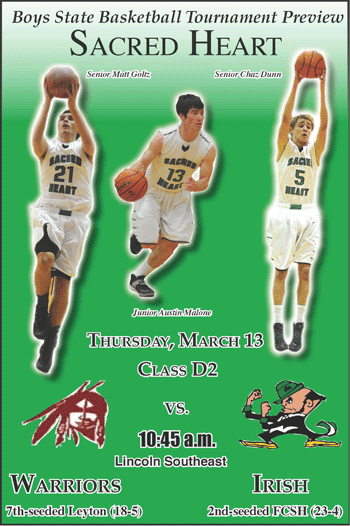 Few things in sports equal the excitement of a buzzer-beater in basketball, especially during the amplified moments in March when the hardwood takes center stage at the high school and college levels.
The rarity occurs, it seems, with more frequency during the first month of spring, but seldom do they cause a ripple effect like the one Exeter-Milligan senior Nolan White's did last Monday as time expired in the first half of their 63-60 overtime victory over Falls City Sacred Heart in the Class D-2-1 district final at Norris Middle School in Firth.
White corralled a deflected pass near the left wing on his defensive end of the court, turned and with his right hand, heaved a 65-foot prayer that took only three seconds to be answered. The ball swished through the net for three of the unlikeliest points one will ever see (It's on YouTube and worth a google, "Nolan half time buzzer shot") and trimmed what would have been a seven-point Irish lead at halftime to four, 29-25.  
At first glance, the three-quarter-court three-pointer proved to be the difference in the game, but the Irish let one slip away. FCSH owned a 13-point lead with five minutes remaining in the fourth quarter, but the Timberwolves clawed back with a 14-1 run and forced overtime where they drained 6-of-8 free throws to seal the win.
White finished with 28 points and converted 11 of 16 free-throw attempts, including 3-of-4 in overtime.
Irish seniors Chaz Dunn, Matt Goltz and Colin Niemeyer – the team's first, second and third leading scorers this season – each finished in double figures with 18, 16 and 11, respectively.
FCSH Head Coach Doug Goltz said the loss to the Timberwolves kept High Plains Community and E-M on the other side of the bracket and Bancroft-Rosalie's loss to HPC secured them the other wildcard, keeping last year's D-2 champions, Wynot, as the odd men out.
So, had White's long-range bomb been a dud, FCSH would have been the top seed and faced a potential semifinal against High Plains or Wynot, who, in some very unscientific estimations, could have claimed the second wildcard from E-M.    
This is the 18th appearance overall and third-straight for the Irish, who are now 23-4 on the season and primed to face seventh-seeded Leyton (18-5) Thursday at 10:45 a.m. at Lincoln Southeast in a rematch of last year's third-place game, a game FCSH won 57-56.
For Coach Goltz, this will mark his 14th trip to Lincoln where he's won eight state championships and accumulated a 25-8 record. Goltz was optimistic Friday about his team's draw, but also thought this D-2 field could be one of the toughest he's seen in his 27 seasons.
"I think D-2 is as good as it has been in a long time," Goltz said. "I mean, you look at the top six teams, five made it to the state tournament, so it is high quality teams top to bottom.
"Spalding Academy's got a ton of experience," continued Goltz, "so I'm sure they like the position they are in and us losing is what put them in that position and Bancroft returns their entire team. Offensively they are very, very good."
The Panthers ended Howells-Dodge's 49-game winning streak on Feb. 11 with a 55-45 win in their conference tournament.
The here-and-now though for Goltz and the Irish are the Warriors of Leyton, a team they certainly won't take lightly, not after the battle for third they had with them a season ago.
"They are solid and last year's win was a heck of a tough game," Goltz said. "They've got all but one of those guys back, where as we're replacing Barnhill (Lane), Cromer (Brady) and Finck (Clay). Hopefully though, the difference is the guys that we've got this year have all improved."
Leyton is led by a pair of seniors, 6-1 Brenner Cruise and 5-9 Dylan Brenner, who enter state averaging 13.2 and 12.7 points per game,  respectively. Brenner's 27-point performance last year against the Irish was, according to Coach Goltz, "as good a single-game performance" against FCSH at state as he could recall. Cody McKay, a 6-2 junior, also averages in double figures with nearly 12 points per game.
Leyton Head Coach Gary Oltmann Monday afternoon provided a brief history lesson on Leyton, first joking that "one won't find it on a map." Oltmann went on to say that in the late 1970's, the towns of Dalton and Gurley, which are both located approximately 15 miles north of Sidney, merged the names of the two towns together to form Leyton Public Schools (Ley-ton).
Oltmann said he expects another hard-fought game Thursday.
"This year's bracket is one of the tougher ones in recent years," Oltmann said. "So there are people out there probably saying we don't belong because we're out west, but I always refer them to the year I coached Bridgeport and we heard the same thing, until we left Lincoln 25-0 with a state championship."
The Irish are led by the previously mentioned trio of seniors, Colin Niemeyer, Chaz Dunn and Matt Goltz (Doug's son), but like their classmates, fellow seniors Jarod Fiegener and Sean Strasheim have been four-year members of the varsity team and collectively, these five possess as much state experience as any in D-2.
Irish junior Austin Malone has started all 27 games and junior Logan Scheitel is the sixth man. Six-foot-4 freshman Bryant Jorn, whose role has increased mightily over the last dozen games, could be an x-factor for the somewhat undersized Irish.
Coach Goltz started coaching this group in the fourth and fifth grade, he said, and knows how much a state championship in basketball would mean to those seniors and to the whole team.
"These guys just want to win a championship because they've had that kind of talent and I think that's always been their goal. Most of these guys have played up in Lincoln, so I think that's going to help us. Some of the other teams in the D-2 field,  they haven't been in the state tournament for awhile, so hopefully that ends up being an advantage to us."
D-2 TOURNAMENT SCHEDULE
Thursday 1st Round:
Game 1 – No. 3 Bancroft-Rosalie (15-9) vs. Hitchcock County (21-3), 9 AM, Lincoln Southeast
Game 2 – No. 7 Leyton (18-5) vs. No. 2 Falls City Sacred Heart (23-4), 10:45 AM, Lincoln Southeast
Game 3 – No. 4 High Plains (25-1) vs. No. 5 Exeter-Milligan (22-3), 7 PM, Lincoln East
Game 4 – No. 1 Spalding/Spalding Academy (22-3) vs. No. 8 Elwood (14-10), 8:45 PM, Lincoln East
Friday Semifinals, Devaney Sports Center:
Game 5 – No. 3-No. 6 Winner vs. No. 2-No. 7 Winner
Game 6 – No. 4-No. 5 Winner vs. No. 1-No. 8 Winner

Saturday, Class D-2 State Championship, 8:30 PM, Pinnacle Bank Arena

Saturday, Third-Place Consolation, 2 PM, Lincoln Southeast

TEAM INFORMATION, as provided by NSAA
(Starters listed, information includes height, grade, points per game, rebounds per game)
BANCROFT-ROSALIE PANTHERS (15-9)
Coach: Mike Sjuts
Scoring averages: 65-41.4
Conference: East Husker
Nicholas Sjuts, 6-3, Sr., 16.1, 10.0
Drew Zitek, 6-1, Sr., 13.5, 3.5
Preston Peters, 6-1, Sr., 11.0, 2.5
Carsten Tietz, 6-0, Jr., 9.3, 6.8
Kenneth Appleton, 5-7, Jr., 7.8, 1.6
Tournament history: First appearance since 1999 and sixth overall. Runner-up in D-1 in 1998.
ELWOOD PIRATES (14-10)
Coach: Kurt Banzhaf
Scoring averages: 62.5-57.3
Conference: Fort Kearny
Skyler Werger, 6-0, Jr., 20.0, 6.3
Jacob Schmeeckle, 6-1, Sr., 11.7, 7.0
Zachary Hackbart, 6-2, Jr., 11.5, 8.3
Blake Summer, 6-2, Sr., 10.1, 12.0
Billie Smith, 5-9, Jr., 7.5, 3.0
Tournament history: First appearance since 1990 and 10th overall. Won Class J in 1928.
EXETER-MILLIGAN TIMBERWOLVES (22-3)
Coach: Dean Filipi
Scoring averages: 57.0-42.0
Conference: Crossroads
Nolan White, 6-2, Sr., 13.7, 9.0
Derek Luzum, 6-3, Jr., 11.6, 6.5
James Sluka, 5-8, Sr., 11.2, 2.7
Kyle Jensen, 5-11, Jr., 7.9, 4.0
Jesse Hall, 6-1, Sr., 5.1, 4.1
Tournament history: First appearance since 2010 and second overall.
FALLS CITY SACRED HEART IRISH (23-4)
Coach: Doug Goltz
Scoring averages: 58.4-41.1
Conference: Pioneer and Mudecas
Chaz Dunn, 6-0, Sr., 13.6, 3.8
Matt Goltz, 6-3, Sr., 11.8, 8.4
Colin Niemeyer, 6-0, Sr., 8.6, 2.0
Austin Malone, 6-0, Jr., 7.9, 3.9
Logan Scheitel, 6-1, Jr., 5.1, 2.3
Tournament history: Repeat qualifier is making third consecutive appearance and 18th overall. Eight state titles, five in D-1 and three in D-2, most recently D-2 in 2008.
HIGH PLAINS STORM (25-1)
Coach: Cameron Hudson
Scoring averages: 66.3-37.3
Conference: Crossroads
Logan Fleming, 6-0, Sr., 20.1, 3.3
Cole Klingsporn, 5-10, Jr., 12.7, 3.5
Dylan Shenk, 6-3, Sr., 8.2, 3.3
Ben Nunnenkamp, 6-3, Sr., 5.8, 3.9
Logan Engel, 6-0, Sr., 5.4, 3.6
Tournament history: Third consecutive appearance and third overall.
HITCHCOCK COUNTY FALCONS (21-3)
Coach: Mike Tines
Scoring averages: 61.9-37.1
Conference: Republican Plains
Austin Blume, 6-2, Sr., 16.9, 4.5
Daniel Arp, 6-4, Jr., 14.1, 9.4
Nathan Rick, 6-4, Sr., 6.1, 3.5
Justin Kershaw, 6-2, Jr., 5.5, 3.1
Alex Whipps, 6-1, Sr., 5.0, 3.0
Tournament history: First time at state.
LEYTON WARRIORS (18-5)
Coach: Gary Oltman
Scoring averages: 55.0-39.0
Conference: Minuteman
Brennen Cruise, 6-1, Sr., 13.2, 9.1
Dylan Brenner, 5-9, Sr., 12.7, 4.5
Cody McKay, 6-2, Jr., 11.8, 6.0
Alex Frerichs, 5-11, Sr., 6.0, 1.9
Jared Westman, 5-7, Jr., 2.3, 1.1
Tournament history: Repeat qualifier is making third consecutive appearance and eighth overall.
SPALDING/SPALDING ACADEMY KNIGHTS (22-3)
Coach: Joe Imus
Scoring averages: 63.7-46.7
Conference: Goldenrod
Brandon Stevens, 5-11, Jr., 15.1, 4.4
Tanner Hudson, 6-4, So., 10.8, 4.8
Joseph Glaser, 5-10, Jr., 10.0, 4.8
Bronc McKay, 6-0, Jr., 8.5, 3.0
Weston Pfeifer, 6-0, Jr., 7.4, 2.2
Tournament history: Second consecutive appearance. Runner-up in 2013.