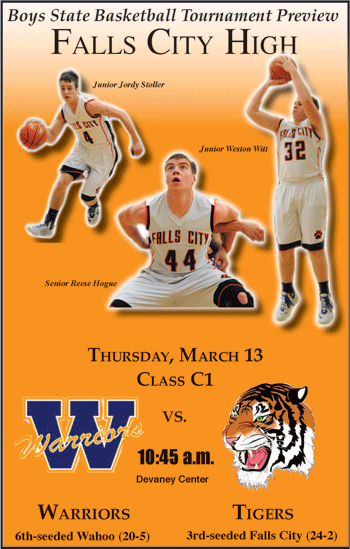 Not quite a week removed from his Falls City High boys basketball team playing the role of David to Lincoln Christian's Goliath in the Tigers 37-36 victory over the Crusaders — a win  that propelled the orange and black to their second Class C-1 Boys State Basketball Tournament in five years – a confident yet mindful FCHS Head Coach Don Hogue spoke Sunday afternoon with one eye on the past and one on the immediate future, while still enjoying the present.
Falls City's triumph last week set a school record for wins in a season and earned the 24-2 Tigers a No. 3 seed this weekend in Lincoln where they open with sixth-seeded Wahoo (20-5) Thursday morning at 10:45 at the Devaney Sports Center.
"It's fun right now," said Hogue with a bullish laugh just before the conversation concluded. He was genuinely savoring 'the moment.' A moment dad and son (Reese, a senior) are in together since the Tigers did the unthinkable last Monday night.
FC held the Crusader frontcourt – 6-4 All-Stater Logan Power, 6-5 Evan Mathers and 6-5 man-child Jared Bubak – to two offensive rebounds, zero second-chance points and their lowest point total since December of 2011. Power, whose name wreaked of irony after FC's frontcourt out-muscled Power and held him to 11 points – 10 shy of his season average.
"These kids work hard," Hogue told the Journal last Monday night after the win. "And we're not done." The latter comment from last week's post-game pit stop seemed to shed light on a coach, a team, a staff and a program ready to take that next step. Lessons learned through the years that will hopefully pay dividends this go-round.
"We had some really good players in 2010, but there was one we went to quite a bit," Hogue said, eye on the past.
This team's strength comes from its balance and threat of a different player stepping up each night, eye on the present.
"Same styles, but a little different in how we approach it and that makes it tough for teams to scout us." Hogue said. "I think over the last two weeks, our defense has gotten so much better, both on ball and off ball, help side, rebounding, really everything," Hogue said about his team's bread-and-butter  – tenacious, smart defense.
Last week's win came up only in x's and o's conversation. In its place, full-on preparation – eye on the immediate future – for Thursday's opponent, Wahoo, the defending C-1 state champions, who finished undefeated at 29-0 in 2013.
In Wahoo – 10 state titles, 34 appearances – the Tigers face one of the state's most decorated basketball programs. They are making their third-straight trip to Lincoln and finished runner-up to Boys Town in 2012.
"Defense is their strength and they are very active in that 1-3-1," stated Hogue. "They're quicker with their hands than Christian, but not having the length Christian had, we should be able to move the ball around the perimeter with less distress than we did last Monday."
Wahoo returns only three from that 29-0 team, highlighted by Ben Scheef, a 6-2 senior, who leads the Warriors in points (402), rebounds (182) and assists (74), and is third in steals with 74. His 156 free throws leads all classes and he averaged 12.5 points per game in 28 starts last season.
Ben's brother, Jake, a 6-2 junior, averages 15.9 points and 4.8 rebounds per game. The Scheef brothers are the sons of head coach, Kevin Scheef.  
Senior Josh Langemeier (5-11 guard, 8.3 ppg), junior Gavin Iversen (6-1 guard, 9.8 ppg) and freshman Jake Ruzicka (6-2 forward, 6.7 ppg) round out the starting five.    
The Tigers will counter with starters Mitchell Harling, Jordy Stoller, Reese Hogue, Jack Hartman and Tyler DiGiacomo. Stoller (6-0, guard) and Hartman (6-4, forward), both juniors, average 10.8 points and 8.5 points per game, respectively. Hogue, a 6-4 center, averages 5 points per game and has taken 17 charges. DiGiacomo, a first-year starter, has been valuable in his role due to his ability to knock down three's (26-72, 36 percent).  
Mount, a 6-2 guard/forward, is probably the most naturally gifted athlete on the team and he can defend from almost every position.
Coach Hogue's sixth man, 5-11 junior Weston Witt, averages 9.2 points per game off the bench and was stellar against Christian. He finished 6-for-10 from the floor, including 4-for-6 from long range en route to a game-high 16 points. "The Red Menace" has connected on a team-best 38 from three-point land where he is converting at a 48-percent clip.
With potentially three games in three days, Hogue may look for contributions from 6-1 junior Zach Jordening or 6-0 senior Cody Schawang.  
Harling, a 6-0 senior and four-year starter, will go down as one of the steadiest, most consistent players to dawn the orange and black. Harling currently owns the school record for career assists (339), career made three-pointers (101) and single-season free-throw percentage (81.8 percent, 2011). He ranks fourth all-time in career points with 1,003 and fifth all-time with 171 steals.
Harling leads FC with 12.8 points and 3.8 assists per game and is second on the team with 33 three-pointers.
His dribble drive – right at LC's Bubak – and game-winning layup in the final seconds last week, encompassed all the traits that make this bunch special and provide merit to what their coach said about not being done.
"Our kids have an edge," Hogue said. "Mitchell drives that ball with seven seconds left and 6-foot-5 standing there. He very easily could have said, 'Well I'm not taking this shot. It may get blocked or I may not pick up a foul or I may miss it.' Every excuse in the book, he could have used to get rid of the ball and pass up that shot. He took the shot. Four-year starter. You want your four-year starter taking that shot. That's huge mental toughness.
"We don't want the kids to get down on themselves if they don't do their jobs," Hogue continued. "If they make a mistake, boom, you gotta move on. Not showing fear, having that mental toughness. When something goes bad you pick up and move on."
C-1 TOURNAMENT SCHEDULE
Thursday, All games at Devaney Sports Center:
Game 1 – No. 7 Cozad (17-8) vs. No.2 Wayne (23-4), 9 AM
Game 2 – No. 6 Wahoo (20-5) vs. No. 3 Falls City (24-2), 10:45 AM
Game 3 – No. 1 Columbus Scotus (21-4) vs. No. 8 Kearney Catholic, 2 PM
Game 4 – No. 4 Bishop Neumann (19-6) vs. No. 5 Boone Central/Newman Grove (19-6), 3:45 PM
Friday Semifinals, Pinnacle Bank Arena:
Game 5 – No. 7-No. 2 Winner vs. No. 6-No. 3 Winner
Game 6 – No. 1-No. 8 Winner vs. No. 4-No. 5 Winner
Saturday, Class C-1 State Championship, 9 AM, Pinnacle Bank Arena
Saturday, Third-Place Consolation, Noon, Lincoln Southeast
TEAM INFORMATION, as provided by NSAA
(Starters listed, information includes height, grade, points per game, rebounds per game)
COZAD HAYMAKERS (17-8)
Coach: Brian Davis
Scoring averages: 57.5-50.4
Conference: Southwest
Conor Young, 6-2, Jr., 14.6, 5.1
Jake Paulsen, 6-0, Sr., 11.9, 2.0
Colin Wetovick, 5-10, Jr., 7.5, 3.7
Tysen Werner, 6-0, Sr., 5.9, 2.2
Nathan Bubak, 6-2, Sr., 5.4, 3.4
Tournament history: First appearance since 1979 and 11th overall. Won Class B in 1953 and 1970 and runner-up in 1969 and 1971.
WAYNE BLUE DEVILS (23-4)
Coach: Rob Sweetland
Scoring averages: 62.0-44.8
Conference: Mid-State
Ben Hoskins, 6-5, Jr., 17.6, 9.2
Jalen Barry, 5-11, Sr., 17.1, 2.4
Jared Anderson, 6-1, Sr., 7.7, 3.5
Kaje Maly, 5-11, Sr., 5.7, 2.0
Luke Rethwisch, 6-0, Sr., 4.9, 2.5
Tournament history: Repeat qualifier is making 28th appearance overall. Won Class B in 1942 and 1956 and Class H in 1919
WAHOO WARRIORS (20-5)
Coach: Kevin Scheef
Scoring averages: 64.5-51.2
Conference: Capitol
Ben Scheef, 6-2, Sr., 16.1, 7.3
Jake Scheef, 6-2, Jr., 15.9, 4.8
Gavin Iversen, 6-1, Jr., 9.8, 4.1
Josh Langemeier, 5-11, Sr., 8.3, 2.4
Jacob Ruzicka, 6-2, Fr., 6.7, 5.6
Tournament history: Defending champion is making third consecutive appearance and 34th overall. Won Class B in 1988, 1989, 1990, 1991, 1993 and 1994, C in 1926, C-1 in 1996, 1998 and 2013.
FALLS CITY TIGERS (25-2)
Coach: Don Hogue
Scoring averages: 60.3-41.1
Conference: Independent
Mitchell Harling, 6-0, Sr., 12.8, 2.5
Jordan Stoller, 6-0, Jr., 10.8, 2.3
Reese Hogue, 6-4, Sr., 5.7, 5.4
Jackson Hartman, 6-4, Jr., 8.5, 6.7
Tyler DiGiacomo, 6-0, Sr., 5.9, 1.7
Tournament history: First appearance since 2010 and 27th overall. Won Class A in 1939 and 1956 and B in 1963.
COLUMBUS SCOTUS SHAMROCKS (21-4)
Coach: Jeff Ohnoutka
Scoring averages: 55.6-47.8
Conference: Centennial
Grant Lahm, 6-0, Jr., 19.8, 3.1
Derek Kaslon, 6-4, Sr., 7.9, 5.1
Nate Ebner, 6-0, Sr., 7.7, 2.8
Cody Mroczek, 6-2, Fr., 6.0, 2.6
Miles Putnam, 6-1, So., 5.0, 2.8
Tournament history: First appearance since 1996 and fifth overall. First-round record 1-3.
KEARNEY CATHOLIC STARS (15-11)
Coach: Scott Carlin
Scoring averages: 49.5-47.3
Conference: Lou-Platte
Blake Holtmeier, 6-2, Sr., 14.2, 10.6
Zachary Jackson, 6-0, Jr., 7.9, 2.7
Matt Moore, 5-10, Sr., 7.3, 2.0
Brady Holtmeier, 5-10, Fr., 6.0, 4.4
Harrison Pearse, 5-9, Jr., 4.1, 1.3
Tournament history: Repeat qualifier is making seventh appearance overall. Class C-1 champion in 2004.
BOONE CENTRAL/NEWMAN GROVE CARDINALS (19-6)
Coach: Dan Zoucha 
Scoring averages: 62.3-51.3
Conference: Mid-State
Tyler Hedlund, 6-0, Sr., 16.6, 2.7
Derek Gentrup, 5-11, Sr., 14.3, 5.4
Travis Kennedy, 6-6, Jr., 7.8, 6.9
Pierce Koch, 5-10, Sr., 7.1, 2.4
Wyatt Mazour, 5-8, Jr., 6.2, 0.7
Tournament history: Repeat qualifier is making second appearance overall. Lost to Wahoo in 2013 final.
WAHOO NEUMANN CAVALIERS (19-6)
Coach: Mike Weiss
Scoring averages: 62.5-43.8
Conference: Centennial
Zach Ahrens, 5-10, Sr., 12.1, 2.8
Austin Woita, 6-3, Sr., 12.0, 6.2
Ben Simons, 6-0, So., 9.2, 3.9
Nathan Meduna, 6-6, Sr., 7.5, 6.1
Jaxon Simons, 6-1, Fr., 4.3, 1.7
Tournament history: First appearance since 2012 and 12th overall. Class C-1 champion in 1991, 2002 and 2003.