Falls City businessman loses battle with ALS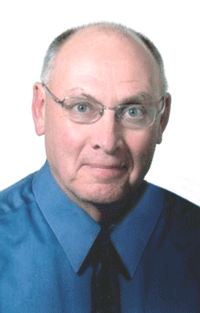 Falls City businessman Bernard Burenheide Saturday night lost his fight with ALS, also known as Lou Gehrig's Disease, passing away at his home. He was 63.
A story detailing his battle with ALS and an upcoming benefit soup supper appeared on the front page of The Falls City Journal just days before his death. The medical benefit, hosted by Falls City FFA, 4-H, Knights of Columbus and UNL Extension, will go on as planned from 5-7:30 p.m. Saturday, Feb. 22, at Prichard Auditorium.
Proceeds will benefit the sponsoring organizations.
Bernard "volunteered endless hours for FFA, 4-H and Knights of Columbus," Mitch Merz, of the FFA Alumni, was quoted in the Feb. 11 edition of The Journal.
A Mass of Christian Burial for the founder, owner and operator of 4 Corners Ag & Building Supply will be held at 10:30 a.m. Friday, Feb. 21, 2014 at Sts. Peter & Paul Catholic Church in Falls City, with Msgr. Robert A. Roh the presiding priest. Interment will be at the Falls City Catholic Cemetery.
A Rosary will be read at 5:30 p.m. Thursday at Dorr and Clark Funeral Home in Falls City. The family will receive friends 30 minutes prior to the rosary and then again following the rosary.
Burenheide opened 4 Corners in the early 1990s. In 1991, he was employed by the co-ops in Rulo and Robinson, KS, as agronomy manager. After they merged with the Brown County (KS) Co-Op, he started 4 Corners, originally selling wheat seed from the family garage. In 1995, the current location at 1410 East 14th Street was purchased and services greatly expanded.
Bernard Burenheide was born Nov. 20, 1950 at Emporia, KS, to the late Tony and Clara Jane (Williams) Burenheide. He was raised in Emporia and graduated from Emporia HS in 1968. He graduated from Northwest Missouri State University in 1972 with a degree in animal science. He married Trudy Thackeray that same year, on Jan. 2, at Princeton, MO. The couple moved to Falls City in 1981.
He was a member of Sts. Peter & Paul Catholic Church of Falls City, FFA Alumni, the Richardson County Extension Council, Parish Council and Church Acolyte. Bernard was president and the founder member of the Richardson County 4-H Foundation.
He is survived by his wife, Trudy, of the home; daughter, Trina (Ben) Schropfer, of Gretna; sons, Brett (Kelly), of Firth, and Will, a recent FC Sacred Heart graduate now studying and running track at Benedictine College in Atchison, KS; brother, Eugene (Debi), of Kansas City, MO; sisters, Marie Ann (Gary) Hinderliter, of Emporia, and Sandy Caves, of Tulsa; and grandchildren, Carter, Dawson and Easton Burenheide, and Amber Schropfer.
Bernard was preceded in death by his parents and three sisters.