Fear of exercise? Open house will exorcize that scary notion!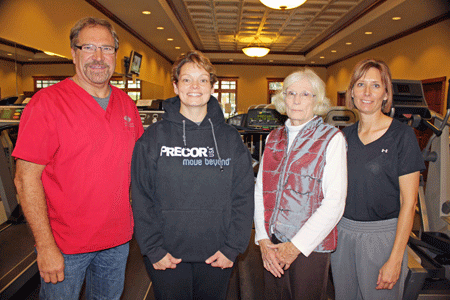 Some of the scariest words in the English language are health-related. Cancer. Surgery. Blockage. Terminal. Exercise.
Exercise? Yes, exercise. Generally speaking, this nation is scared to death of exercise, and according to Dave Nachtigal, owner of the Falls City Fitness Center, the age group that is most frightened is the one that needs it most.  Those who are 50 and older.
Why are we so scared? We've heard all of our lives that exercise improves overall health.  We know it makes us feel better!  Yet most of us are too afraid to even investigate the local gym.  We have no idea how to run the equipment.  Plus, we think if we walk in the door just to ask questions, a pushy salesman will convince us to join.
If any of this sounds familiar, then Thursday, Nov. 14th, is your lucky day.  It's the 10-year anniversary of the Fitness Center, and Dave and Laurie Nachtigal and their staffs at the Fitness Center, Physical and Respiratory Therapy Services, and Personal Care, Inc., are hosting an open house all day at the Fitness Center so members can celebrate, and non-members can see just how non-threatening "the gym" can really be.
To read the full article please sign-up for or purchase the Journal's new e-edition.
The E-edition is FREE with your 1-year paid subscription to the print edition of the Falls City Journal. If you are not a subscriber to the print edition, you can purchase a 1-year subscription to the E-edition for only $25 via Pay Pal. A Pay Pal account is not needed to purchase and security is guaranteed.
The E-edition is an exact replica of the printed edition and will be available each and every Tuesday morning! Users will not need to wait on the Journal to arrive in the mail and can access all our weekly paper has to offer 24 hours a day, 7 days a week from a catalogue of E-editions dating back to January 6, 2011.
Instructions for registering. (Please note the two options)
1.) Those with paid subscriptions to the print edition of the Journal please click HERE. A new window will open and you will be redirected to the e-edition application. Please read the instructions at the top of the page before filling out the registration.
or
2.) For those looking to purchase the E-edition, on the left side of the home page click on the blue 'Create an account' link. You will be taken to a new page where you will need to fill out the necessary information. Select "E-edition" under the subscription plan and you will be directed to the Journal's PayPal account where you will pay for your subscription. After payment you will be directed back to the site to log-in and begin use.