Tigers make history with win over Wayne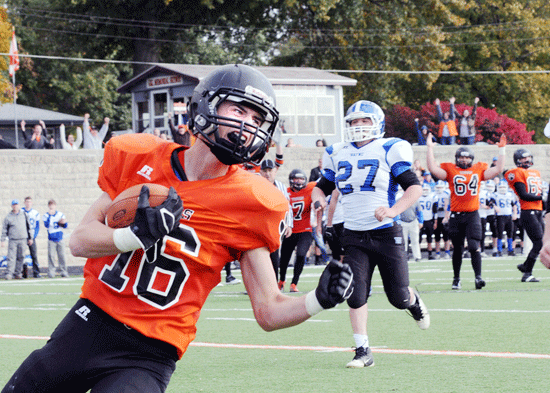 Falls City High's Jordy Stoller celebrates after hauling in an 8-yard TD catch late in the fourth quarter of the Tigers 28-27 Class C-1 playoff victory over Wayne Thursday at Jug Brown Stadium. The junior playmaker's clutch reception brought FC to within a point, 27-26. Junior Brenden Heckenlively punched in the go-ahead two-point conversion on the next play. Photo by Jim Langan.
Falls City was in a festive, Halloween mood last Thursday afternoon at Jug Brown Stadium for their Class C-1 playoff game with the Wayne Blue Devils.
The Tigers, dressed in the official colors of the day, used a few late-game tricks and earned one mighty satisfying treat – a 28-27 playoff victory. The win marked the first playoff victory for FC, who entered the day 0-6 in the state playoffs with four of those losses coming by seven points or fewer and two ending in overtime, including last year's loss 28-22 loss to Boys Town.
"We played it up for sure," said FC head coach Darin Fritz about the significance of Thursday's victory. "We wanted them to know what a big moment it was and they definitely took it to heart. They came out fired up and never quit after some things didn't go our way."
Trailing 27-20 with 4:55 left in the game, FC took over at their 34-yard line. Senior Mitchell Harling broke free for a 12-yard run on third-and-eight, then two plays later, Fritz dialed up the first trick – a throwback pass where the back rolls one direction and throws the ball to a receiver running down the opposite side of the field.
"We had success with the play early in the season and figured they hadn't seen it on film, so we thought it would work."
Senior Ryan Mount rolled to his right and passed to junior Jordy Stoller down the left sideline for a 27-yard gain to the Wayne 26-yard line. The same play was called two plays earlier, but pressure forced Mount to run the ball.
"We missed the receiver the first time we ran it and kind of thought they'd see it coming the second time," Fritz said. "But sometimes with plays like those, you can see it coming and still not stop it. Ryan made a great throw and Jordy made a great catch."
Harling rushed for seven yards on the next play, but the Tigers stalled on second and third downs, setting up a fourth-and-three at the 19-yard line.
After a FC timeout, Fritz went back to the bag of tricks and lined the Tigers up in the swinging gate formation, which forced a timeout by Wayne. FC stayed in the formation following Wayne's timeout, but an illegal formation penalty negated a first-down run by Harling and backed the Tigers up five yards. FC stayed with the peculiar formation on fourth-and-eight and Harling found Stoller for a 14-yard first down. Two plays later, it was the throwback pass again, this time from Harling to Stoller for an eight-yard TD. Junior fullback Brenden Heckenlively powered in the go-ahead two-point conversion with 1:33 left in the game.
Stoller clinched the historical victory for the Tigers three plays later when he picked off a Barry pass attempt and FC finished the game in the victory formation.
Stoller's fourth interception of the season gave those in orange and black – players, coaches, faculty and fans – plenty of reasons to celebrate and the way the game's final 12 minutes unfolded, combined with the weight of FC's history of gut-wrenching playoff losses, it provided many an opportunity for a much needed exhale.
Wayne seized all the momentum from the Tigers by turning a six-point deficit into a 27-20 lead in the span of three minutes half way through the fourth quarter.
The Blue Devils first drive of the fourth quarter ended with a 20-yard TD pass from Jalen Barry to Jared Anderson to make it 21-20 with 7:22 remaining. A blocked punt on FC's next series set up Wayne inside the FC 30-yard line and two plays later Barry found Luke Rethwisch for an eight-yard TD.
FC's Jack Hartman grabbed a little mojo back for the Tiger's when he blocked the extra point and kept the lead at seven points.
"That was a huge momentum play for us," Fritz said. "It gave us some new life and we were able to make the most of it. Obviously we didn't know we were going to go on to convert that two-point conversion, but it left that possibility open."
Harling led FC with 102 yards rushing on 18 carries and finished 4-of-6 passing for 28 yards and a TD. Stoller finished with 195 all-purpose yards and two scores. Senior Tyler DiGiacomo and junior Weston Witt each added a rushing touchdown.
Senior Reese Hogue led the Tiger defense with one-and-a-half sacks, which resulted in minus-16 yards for Wayne. Hartman finished with five solo tackles and Heckenlively recorded nine team-high tackles.
Wayne's balanced attack tallied 150 yards rushing to 157 yards passing. Barry led Wayne with three TD passes and 157 yards on 12-for-22 passing.