CPT Dan Fritz to speak on Veteran's Day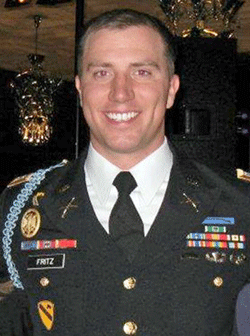 CPT Dan Fritz
Capitan Daniel Fritz, who served a l2-month deployment to Iraq, is the speaker for the annual Veterans Day program at Falls City High School on Monday Nov. ll.  The 11 a.m. program is attended by Falls City High and Sacred Heart students and they also will participate in it.
CPT Fritz, son of Noala Fritz and the late Lyle Fritz of Verdon, also will speak at the dinner/program for veterans and their spouses at 6 p.m. Monday at the First United Methodist Church. CPT Fritz is a brother of lst Lt. Jacob Fritz, who was killed in January 2007 while stationed in Iraq.
The day's activities, arranged by Sherry Maddox, who will emcee both the morning and evening programs, will include a parade down Stone Street at l:30. Refreshments will be served at Shopko Hometown following the parade.
CPT Fritz is a 2003 graduate of Dawson-Verdon High School and the United States Military Academy at West Point, NY, graduating with a Bachelor Science in Environmental Geography.
After graduation he was assigned to Fort Benning, GA, where he attended the Basic Officers Leader Course and the Infantry Officer Basic Course, achieving the Commander's List for both courses. He then attended Ranger School, graduating on July l7, 2009. CPT Fritz was assigned to the 4th Armor Brigade Combat Team, lst Cavalry Division, at Fort Hood, TX. There he served as Rifle Platoon Leader, Scout  Platoon Leader, and Headquarters Company Executive Officer from July 2009 to May 20l2. After returning from the unit's deployment to Iraq, he attended the Maneuver Captain's Career Course. He again achieved the Commander's List, graduating in November 20l2. His next assignment was to the 4th Infantry Brigade Combat Team, lst Infantry Division, at Fort Riley, KS. He currently serves as an operations officer in 2-l6 Infantry and will take command of Chosen Company in January 20l4.
CPT Fritz's awards include: Army Commendation Medal (three awards), Army Achievement Medal (two awards), Iraqi Campaign Medal (one Campaign Star). His badges include the Expert Infantry Badge, Parachutists Badge, Air Assault Badge, Ranger Tab and the Gold German Proficiency Badge.
He is engaged to Haley Schwartz of Omaha.