A conversation with Floyd Norman – 2022 TCM Classic Film Festival
I was back in Hollywood for the TCM Film Festival when I spotted someone I had been extremely excited to see as a guest and more excited to see walking around the lobby of the Roosevelt Hotel. 
When the 2022 schedule was announced, Floyd Norman was announced to have a special hour-long "Conversation with Floyd Norman." It was an event I wasn't going to risk missing. I had seen Mr. Norman and his friend Jane Baer do an introduction to Disney's Sleeping Beauty. Norman was an animator along with Baer for the film, and it's my favorite Disney film. I sat and cried and cried through that film. I was so happy, and he was so delightful. 
Now, years later, he was here across the room, just hanging out. I ran to him, and all I could tell him was, "I love you. I just love you; I love you. You're the best; I love you." He smiled and again was such a gentleman. He let me take a photo with him. My favorite photo from the festival isn't that photo, but the one my friend Jackie took of me when I returned to the table. Norman is in the background, and you can practically hear me squealing through the photo. 
The final film of the night for a few of us was poolside. The poolside movies are my favorite; it takes a monumental event for me to miss a poolside cinema. We entered the pool area where everything was set up and found Soylent Green cookies to go with our movie of the night. It was my first showing of this utterly wild sci-fi film. After I yelled, "Soylent Green is people," I found out that it was also my sister's first showing, and she didn't know that quote; she also didn't know that it was people. I felt terrible. She had gone her entire life avoiding that spoiler, and 20 minutes before the movie, I ruined the ending. What a horrible sister and film buddy I am. So I did what any good sister would do; I asked our friend to get us more Soylent Green cookies to try to get her to forget that I had just ruined the movie by giving her sugar. 
The next day, I got up bright and early to catch one of my absolute favorite films on the big screen. 
This was also another non-negotiable, can't miss movie. I knew that as tired as I would be that morning, there would be no way I'd sleep through The Third Man. 
The Third Man (1949) stars Joseph Cotton and Orson Wells. Set in postwar Vienna, Austria, it tells of author Holly Martins, who arrives penniless to see his friend Harry Lime. Martins quickly learns that Lime is dead and develops a conspiracy theory after learning of a "third man" present at the time of Harry's death. While investigating, he falls for Harry's girlfriend. I can't go into detail because I would recommend seeing this one, and I don't want to ruin anything. The cinematography is beautiful, and the "cuckoo clock speech" is an entirely different level of dialogue. All of this is brought together by a soundtrack by Anton Karas on the Zither—something I love so much; it's been my ringtone since we all carried Blackberrys. 
When I saw Floyd Norman walk in and sit down to watch The Third Man, I nearly passed out. I watched one of my favorite movies with a Disney/Pixar genius.
After the film, my friend and I had to rush to the theater next door where Cori and our other friends were supposed to save us seats. 
The Last of Sheila was a film I was excited to see and one I thought would be pretty empty. We were shocked to see a packed theater when we arrived minutes after everyone was seated. Our seats couldn't be saved, but our friends pointed out that Maxwell Caulfield, aka Rex Manning, aka Michael "Cool Rider" from Grease 2 and his wife Juliet Mills were in attendance a few rows in front of them to watch the film.  
We found our way to the front row because we didn't want to miss this movie. 
I'm so glad we stayed. It was my first viewing, and I loved it. 
The film stars James Coburn as Sheila's husband, who, a year after Sheila is killed, invites a group of friends to spend the weekend on his yacht to play a scavenger hunt game. He hopes to use the game to find Sheila's killer, but the game turns deadly. It also stars Dyan Cannon and James Mason.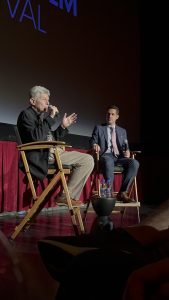 There are movies I see "blind" while at the festival occasionally. I go with no information at all. I'll know that a particular film will have a great guest and some stars I love, but I'll know nothing else. "Sheila" was one of those films for me, and when I tell you that I fell in love with this movie, that would be an understatement. This shot to the top of my list of all-time favorite movies. Run, don't walk to see this movie if you haven't. 
I have found so many new favorites by seeing them on the big screen with a crowd at the festival for the first time. It's such a luxury and fun thing to do. 
After the film, Richard Benjamin showed up to discuss the film, which was a treat for us in the front row, who had an excellent seat for his discussion. We lucked out in that sense. 
After that, it was time for a conversation with Floyd Norman. I went and saved seats for over an hour. I wanted to ensure Cori and I had great seats for this one. He is such a talent and has lived such a fantastic life. Have I mentioned that I am wildly in love with him?
Floyd Norman is 86, almost 87, with the memory and energy of a 25-year-old. He was one of Disney's first, if not the first, black animators. He was in high school when he decided to try to get a job at Disney Studios; he didn't get a job but went to school to learn to draw. A few years later, he joined Disney as it was expanding. 
He worked as an animator on Sleeping Beauty, The Sword in the Stone and The Jungle Book, and other animated short projects at Disney in the 1950s and early 60s. After Walt Disney's death, Norman left to co-found AfroKids animation studio with Leo Sullivan. They worked on various projects, including the original Hey! Hey! Hey! It's Fat Albert television special, which aired in 1969 on NBC.
He returned to Disney to work on Robin Hood, Jabberjaw and more. He has more recently worked for Pixar on Toy Story 2 and Monsters, Inc. for Pixar and The Hunchback of Notre Dame and Mulan for Disney, among others. He has continued to work for The Walt Disney Company as a consultant on various projects.
In 2016, the documentary Floyd Norman: An Animated Life was released, and it's fantastic.  
His discussion was fascinating. After I tried to approach him, he was whisked away. Cori found Marla Hooch from A League of Their Own (Megan Cavanagh) and began conversing. It turns out Megan's friend was also the director of Norman's documentary. He pulled Mr. Norman aside so we could get a proper picture of us together. We were able to have an actual conversation. I got to tell him that I was at the screening of Sleeping Beauty and how much it meant to me. It was a moment I had dreamt of since that day years ago when I sat in the Egyptian theater, listening to him speak about a film that meant so much to me as a child. I had to pinch myself to make sure I wasn't dreaming. 
To be continued..
Nikki McKim attended the TCM Classic Film Festival as a paid pass holder not as a media pass holder.