Tiger Athletes, Athletic Director Honored At Annual Booster Banquet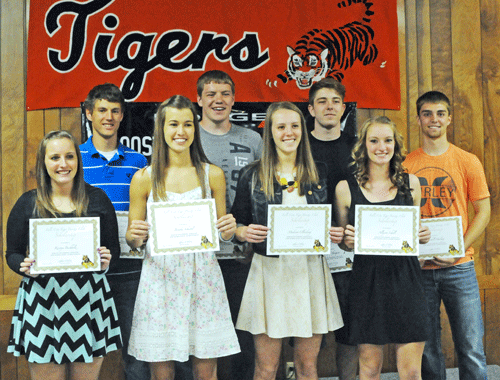 Tiger Booster Club Scholarship Winners, front row, from left: Kirstyn Buchholz, Brooke Scheitel, Madison Olberding; back row, from left: Cody Schawang, Reese Hogue, Chase Thompson and Mitchell Harling. Photos by Jim Langan.
Falls City High student-athletes were joined by their parents, siblings, fans, teachers, administrators and coaches Sunday night at the Elks Club for the annual Tiger Booster Club Athletic Banquet. Booster Club President Marc Merz and newly inducted Elks Exalted Ruler Brian McKim each welcomed the capacity crowd who were then treated to a meal prepared and served by local Elks members.
Booster Club certificates were presented by Theresa Armbruster, Robbie Craig, Marc Merz and Janice Lotter, followed by the presentation of athletic letter awards by each of the 12 varsity coaches.     
The varsity coaches were each given time to provide summaries of their respective seasons, as well as hand out special awards.
During their time at the podium, many of the coaches thanked FC Public Schools Athletic Director Darwin Palmer, who is retiring after 23 years at FCPS, the last 15 of which he spent as Athletic Director.
FC Middle School head boys basketball coach Kevin Scheitel, who also serves as an assistant at the high school level, recognized Palmer one final time towards the end of the program. Palmer was greeted with a standing ovation and Scheitel, on behalf of the Booster Club, presented him with a plaque and May basket – both orange and black, of course.
Palmer thanked his administrators, fellow teachers, coaches, students and the community for all their support over 23 years. He said he would miss teaching and being around the students everyday, but would continue to follow the Tigers.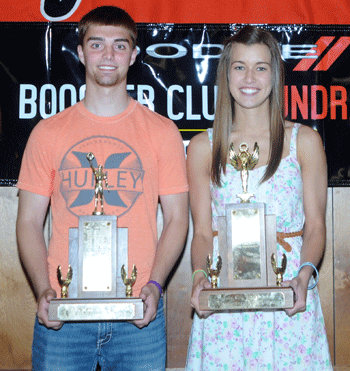 Falls City High's 2013-14 Outstanding Male and Female Athletes, Mitchell Harling and Brooke Scheitel. The award, which is handed out annually at the Tiger Booster Club Banquet, is voted on by other Tiger athletes. Don Hogue presented the award to Harling, while Jason Bredemeier presented Scheitel with her award.
Palmer, in a "torch passed" moment, closed by recognizing those in attendance whom he had taught or coached who were now coaching, either at FC or elsewhere, and nearly a dozen were applauded.
Booster Club Secretary Kristen Poppe announced the Scholar Athletes and said the criteria for being named a Scholar Athlete included a minimum 3.85 grade-point average and this year their were 40 FCHS student-athletes –  eight seniors, eight juniors, nine sophomores and 15 freshman – named as such.
Poppe also announced the Booster Club Scholarship winners, which were Mitchell Harling and Brooke Scheitel ($300 each) and Reese Hogue, Cody Schawang, Chase Thompson, Madison Olberding, Allyson Scholl and Kirstyn Buchholz ($200 each).
Tiger head softball coach Jason Bredemeier announced Brooke Scheitel as the 2013-14 Outstanding Female Athlete and Tiger head basketball coach and new athletic director Don Hogue announced Mitchell Harling as the Outstanding Male Athlete. The awards are voted on by athletes in each sport.