Hair Cottage sold, new owner to rename business, Studio M on Stone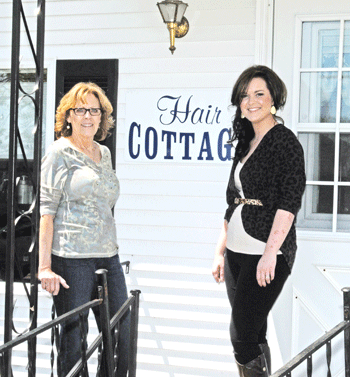 Hair Cottage owner Pat Rieschick (left) is selling her business to local cosmetologist Megan Goff, who will change the name of the business to Studio M on Stone. Rieschick, who has owned the business at 1220 Stone Street since October of 1978, will continue to work alongside Goff and the two will continue the nearly four-decades long tradition of providing all-around hair care to men, women and children of all ages.

 After 38 years and thousands of strands of hair, local barber Pat Rieschick is selling the Hair Cottage, located  at 1219 Stone Street, to another local cosmetologist, Megan Goff, formerly of The Studio Salon, 1613 Stone.
 Goff is in the process of purchasing The Hair Cottage from Rieschick, who opened the business in October of  1978, and next week will officially change the name to Studio M on Stone. Rieschick was adamant that she  is not retiring and will continue to cut hair alongside Megan. Rieschick also said the phone number –  402-245-5900 – will remain the same and the two will continue to provide their clients with high quality hair  care.
 "I am thankful and appreciative of all my customers and for all the great memories and friends over the past  38 years," Rieschick said. "I hope they will give Megan the same support."
 Rieschick, interviewed just a few feet from the chair where hundreds of people have sat and received  haircuts through the years, could not pinpoint a highlight of her career, per sé. Rather, she noted the  family-like nature of her business and the loyalty of her customers.
 "You feel like everybody is like a family member and you get really attached. They've been very loyal, the  customers that I have. I've got people that I've had since the very beginning."
 Rieschick, who graduated from Falls City High in 1969 and from the College of Hair Design in Lincoln in  1976, cut hair for one year at El Matador on 12th and Stone, which was owned by Harold Clark and located  across the street from the tiny house she would purchase in 1978 and name The Hair Cottage.
 "When I came to town, I was fortunate that it was back when women started doing blow dries and got away  from rollers," Rieschick said of the early days of her business. "I went to barber school only to be a barber  and I learned to do that, and so people were flocking in. My business just hit like that because women were ready to get rid of their rollers and under  the driers. It was great."
 Goff, who owns Studio M in her hometown of Hamburg, Iowa, has wanted to open her own salon in Falls City since moving her three years ago.
 "I've always had goals in mind and one was to eventually own another salon in my new residence and the opportunity and time came, so here we  are," said Goff, who was approached by Rieschick in mid April about the possibility of buying the business.
 Goff was born and raised in Hamburg and attended Xenon International Academy Beauty School and Salon in Omaha, after she spent one year at the  University of Nebraska-Lincoln. It was there on UNL's East Campus, during the 2003 fall semester, that her path to Falls City started. Megan  befriended a young man from Falls City by the name of Luke Goff and the two remained friends long after Megan left East Campus to pursue a career  in cosmetology. The two reconnected in 2009 and in August of 2012, Luke and Megan were married in Falls City. They currently live on a farm south  of Salem where they raise two children, seven-year-old Mason and three-year-old Leah.
 Megan said she will continue to cut hair once a week and occasionally on weekends at her shop in Hamburg, which she opened in 2009, but will focus  on the new shop on south Stone in Falls City.
 "I'm really excited to start this new journey," Goff said. "I'm really passionate about what I do and I've enjoyed coming to this community. It's been a  great experience and the community has welcomed me with open arms. I've been very pleased with how quickly I became established and I just  want to grow from here."
 The new Studio M on Stone street will feature coloring, perming and hair cutting for men, women and children of all ages and hairstyles.